Professor Matt Hutchings wins the 2019 Microbiology Outreach Prize
24 July 2019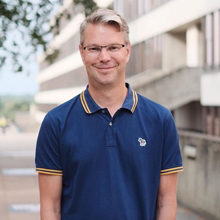 The 2019 Microbiology Outreach Prize has been awarded to Professor Matt Hutchings, University of East Anglia, for his project Antibiotic Hunters, and the way that it has helped to educate the public about microbiology, antibiotics and antimicrobial resistance.
Matt said; "I'm delighted to receive this award which recognises the public engagement work my research group and our colleagues have carried out over the last five years. It means even more because it comes from the fantastic Microbiology Society which has always been so supportive for me and all of the postdocs, PhD and undergraduate students that have worked in my lab over the last 12 years."
Matt's research group currently investigate how fungus-growing ant systems could help us in the fight against antimicrobial resistance by looking at their defence systems in search of novel antibiotics. Antibiotic Hunters has enabled Matt and his team to take their research outside of the lab and engage with more than 100,000 school children and members of the public. Since 2014, the project has seen exhibition stands set up across a range of science events including the Royal Society of Science Summer exhibition and the Natural History Museum Lates.
One of Professor Hutchings' nominators, Dr Laura Lehtovirta-Morley, said that he "has a great ability to captivate the interest and curiosity of different people regardless of their age and academic backgrounds. He has done a superb job in raising awareness about antibiotic discovery and in inspiring the next generation of microbiologists."
All members are welcome to attend his Prize demonstration at the Microbiology Society Annual General Meeting, in London on 12 September 2019.
The Prize is awarded annually by the Society to an individual or group of microbiologists who have demonstrated an outstanding outreach initiative. To find out more about this Prize, please visit our website.
---
Image: Professor Matt Hutchings.