Highlights from the UK AMR Strategy
Posted on February 22, 2019 by Sufia Rahman
Last year the Microbiology Society submitted a joint response with the Society for Applied Microbiology (SfAM) to the Health and Social Care Select Committee's inquiry into antimicrobial resistance. On the 24th January 2019, the UK government launched its strategy to tackle antimicrobial resistance (AMR). In this blog we highlight key points in the UK AMR Strategy and research priorities.
"A world in which antimicrobial resistance is effectively contained, controlled and mitigated"
This is the UK Government's ambitious vision for AMR in 2040, published in January. The first steps to progress towards this were outlined in the accompanying 5-year national action plan for 2019-2024. The plan focuses on three key aims to tackle AMR:
1. Reducing the burden of infection
Infection prevention is central to the new AMR strategy and targets are made to:
Halve healthcare-associated Gram-negative blood stream infections
Reduce the number of specific drug-resistant infections in humans by 10% by 2025
An infection prevented means a course of antibiotic treatment is avoided. However, unless there is a strong understanding of how and where a specific infection occurs, as well as robust surveillance systems in place to monitor them when they do, it is challenging to measure when an infection has been prevented. The strategy identifies Carbapenemase-producing Gram-negative infections as difficult to monitor and commits to enhance its surveillance of them but does not specify which drug-resistant infections it plans to reduce.
"The UK has made good progress but there is much further to go"

Dame Sally Davies, the Chief Medical Officer (Westminster Health Forum)
2. Optimising the use of antimicrobials
The AMR strategy highlights the significant recent progress that has been made in the UK in reducing antibiotic use in both humans (7.3%) and food-producing animals (40%) from 2014-17. Further targets have been made to:
Reduce UK antibiotic use in food-producing animals by 25% between 2016 and 2020 and define new objectives by 2021 for 2025
Be able to report on the percentage of prescriptions supported by a diagnostic test or decision support tool by 2024
A strengthened One Health approach to tackle AMR across human health, agri-food and environmental sectors was one of the key recommendations we gave in our response to the AMR inquiry, and these targets take this on board. However, as highlighted by the Alliance to Save Our Antibiotics, although EU legislation is to come into force in 2022 banning preventative antibiotic group treatments in livestock, the UK government has yet to commit to this post-Brexit.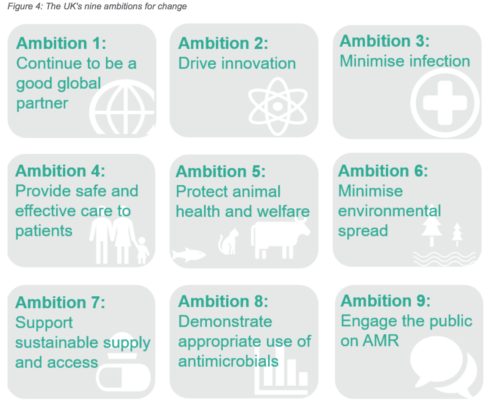 3. Innovation
Lord O'Neill's 2016 UK AMR Review highlighted the need for better incentives to promote the research and development (R&D) of new antibiotics. Addressing this, the UK AMR strategy commits to develop and test a new payment model for antibiotics based on a NICE-led assessment of the value of the medicine to the NHS, that de-links the price paid from the volumes sold. Further details on this model have yet to emerge, but in a press conference launching the AMR strategy, the Health Secretary Matt Hancock declared that within six months the NHS will start work on paying for antibiotics as a medical service rather than a medical product. This shows a clear commitment from the UK to address the market failure in antibiotics.
As well as R&D to develop new antibiotics, the UK AMR strategy also recognises the need to research alternative therapies including novel vaccines, bacteriophages and microbiome-based therapies.
Through this five-year AMR Strategy and 20-year vision the UK has shown a long-term commitment tackle AMR. This is certainly encouraging and shows global leadership. It is now crucial that the government delivers upon this vision.
The Microbiology Society will continue to engage with the government to support ambitions to tackle AMR. Please visit our AMR webpage to find out more.