Meet 2023 Infection Science Awardee Blanca Perez-Sepulveda
Posted on October 30, 2023 by Microbiology Society
The Microbiology Society Infection Science Award aims to support the exchange of ideas and the career development of promising early career and trainee researchers, helping to translate microbiological research to the clinic. The scheme facilitates selected presenters from the Infection Forum at Annual Conference to present their work at the Federation of Infection Society (FIS) conference.

In this blog meet one of this year's awardees, Blanca Perez-Sepulveda (University of Liverpool, UK), who will be presenting in the Infectious Disease session taking place on 15 November 2023 at FIS 2023.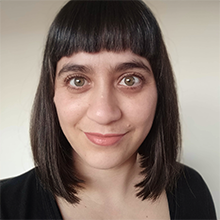 What are your current research interests?
I am a Molecular Microbiologist interested in how different micro-organisms interact and survive in their environments. In particular, I am trying to understand the role of the bacterial genome in controlling (or not?) processes such as metabolism, phage resistance mechanisms, and general genome architecture and evolution. I am currently working as a Postdoctoral Research Associate in the Jay Hinton Lab (University of Liverpool), focussing on the molecular mechanisms and environmental reservoirs of invasive Salmonella Enteritidis and their phages.
What is the theme of your talk?
I will talk about my current research in understanding key differences between Salmonella causing gastroenteritis and bloodstream infection.
How would you explain your research to a GCSE student?
Salmonella is a pathogen that causes gastroenteritis worldwide. Most people have experienced the effects of eating contaminated food, often due to Salmonella infection. Some Salmonella have the ability to invade other body compartments that are usually sterile, causing systemic disease often resulting in death. The highest mortality caused by Salmonella disease is in sub-Saharan African countries, which has been linked to risk factors such as malnutrition, malaria, and HIV. We have identified particular strains of Salmonella causing systemic disease, however they are very similar to the ones causing gastroenteritis. Our question is about which key differences we can identify to detect Salmonella causing bloodstream infection on time, and ultimately develop strategies for prevention.
If you could do any other job, what would it be?
I really enjoy teaching. I think there is great value in knowledge transfer at all levels, especially when it serves to inspire and mentor new generations.
Why is it important for the infection science community to engage with the Microbiology Society?
The infection science community and the Microbiology Society share common goals and areas of interest. One of the lessons learnt from the COVID-19 pandemic is that collaboration is the best (if not the only) way to truly address the issues we face with infectious diseases. Oftentimes, we become highly specialised in a particular process or technique, but without the link with clinicians and experts in other areas, we lose significant opportunities for development and action. I am a true believer in the power of collaboration, and I hope the connection between the infection science community and the Microbiology Society will be maintained in the future.