Summer Science: Super Biomaterials to fight Super Bugs
Posted on July 2, 2019 by Dr Kim Hardie
The research group of Dr Kim Hardie are at the Royal Society Summer Science Exhibition this week. In collaboration with Professor Morgan Alexander, they will be delivering a stand called 'Super Biomaterials to fight Super Bugs'. Over 14,000 people are expected to visit this free event, which takes place from 1 July to 7 July. Here, Dr Hardie discusses what has led up to launching their 'Great Greeting Experiment' at this year's exhibition.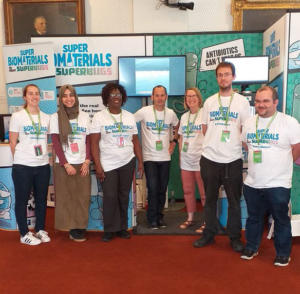 My group are interested in the ways bacteria transfer to surfaces and form biofilm communities on them, with particular interest in how this impacts on antimicrobial delivery. We are based at the University of Nottingham's Centre of Biomolecular Sciences, where we are lucky enough to have access to state-of-the-art imaging facilities – including the super resolution microscope – and like-minded colleagues from the National Biofilm Innovation Centre.
Collaborating across disciplines is key to our work, and we are excited to incorporate novel optical nanosensors developed by Professor Jon Aylott which monitor either pH or oxygen in real time. We have used these nanosensors to take measurements at a single-cell level within biofilms and map the environmental microniches that bacteria are exposed to. Understanding the conditions of these microniches is important, because they affect how tolerant the bacteria are to antimicrobials. My colleagues, Professors Morgan Alexander and Paul Williams, have developed a new surface that bacteria do not adhere to which, excitingly, is proving successful at reducing infections when applied to catheters in hospitals.
Our stand at The Royal Society aims to communicate how this novel surface, the Super Biomaterial Bactigon®, works against bacterial adherence. We will also discuss how biofilms impact upon our health and wellbeing, and how bacteria find surfaces to attach to in the first place. Funding for this has been drawn from the outreach components of our various grants.
The prestigious Royal Society Summer Science Exhibition Stand is providing the opportunity to launch an ambitious experiment to see if more germs are transferred by a 'high five' or 'hand shake' greeting. Using a bespoke light box built by 'More Creative,' we will photograph hands of participants who have greeted a volunteer with UV iridescent powder on their hands. Fluorescent transfer will be quantified automatically (thanks to Professor Ed Lester), and a live graph of the results displayed. Unsurprisingly, this set up has taken a long time and a lot of effort from our research team to perfect! We have trialled it with colleagues, a senior school class and at the University of Nottingham public engagement event 'Wonder' with much success.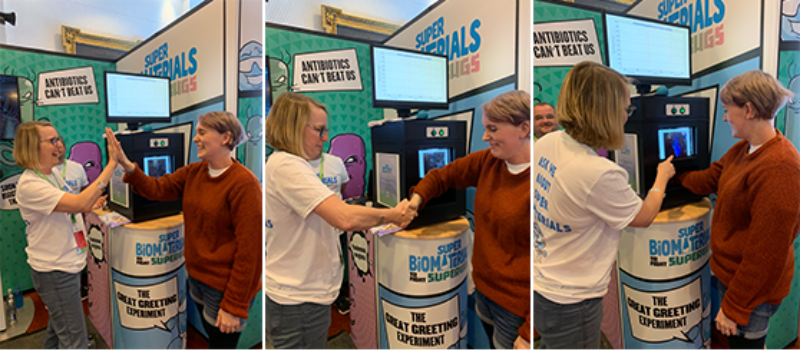 To link the germ transfer from hands to surfaces, the participants look at how handling a phone or toy ball spreads the iridescent powder around their hand, making it more likely that transfer will occur the next time they greet someone or touch something.
Probably one of the most enlightening components of the Royal Society Summer Science exhibit was acting as the patient in a simulated hospital ward whilst student nurses sporting iridescent lotion undertake a standard observation. When we trialled this, even though most of the nurses carefully performed proper hand hygiene, I was 'contaminated'! My bedclothes and the blood pressure cuff they used were smeared with the lotion, and most notably so was the site of my indwelling venous catheter. This profoundly illustrates to me how easily things become contaminated, and why we need super biomaterials to prevent bacteria from establishing biofilms that are hard to remove at these sites.
It is a good job that we have had a project manager (Sian Rankin-Turner) to coordinate all the preparatory design and implementation meetings, the delivery of various giveaways and stand components, schedules and accommodation for 50 people coming to London at different times and much, much more! We are proud the team has been able to put together teacher packs, two professional animation videos, top trump cards and a comic. I am looking forward to the fun of interacting with registered secondary school groups, the public and experiencing the 'Adults Lates' and black-tie VIP evening.
Most of all, I am really pleased that our team will include surface scientists, microbiologists, creative artists and infection control and infection nurses. This breadth will deliver insight to the public, and I can't wait to see all the smiling faces of the visitors. It will all be worth it if we contribute to reducing the spread of superbugs and inspire just one of the next generations into a career in microbiology!