Unilever Colworth Prize 2020: Professor Manu Prakash
Posted on May 27, 2021 by Matt Bassett
The Unilever Colworth Prize, sponsored by the Unilever Safety and Environmental Assurance Center is awarded annually to an individual that has made an outstanding contribution to translational microbiology. At the Microbiology Society's Annual Conference Online 2021, 2020 winner Professor Manu Prakash from Stanford University, presented his talk titled 'Frugal science: a practical guide to making science accessible to all.'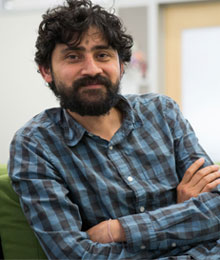 Professor Prakash's talk discussed the importance of the accessibility of science and how to make it happen. He began his talk by explaining the importance of citizen science projects, using 'Operation Moonwalk', the astrological citizen science project from the 1950s, as an example.
Professor Prakash highlighted that much of the world has limited access to science and healthcare. He took delegates through his work tackling this and talked about his efforts in democratising access to science, diagnostics and ecosystem surveying techniques.
One such project, Planktonscope, came about because research vessels studying the ocean can cost upwards of $50-60,000 a day. Professor Prakash and his team are taking advantage of around 15,000 recreational sailboats crossing the oceans, by creating an automatic microscope that anyone can make, only costing $200. It records videos of the micro-organisms living in the ocean, allowing scientists to create what Professor Prakash called an ecogram or ecological map of an area. It's an incredibly powerful tool that allows scientists to classify and better understand the ecological diversity of an area with minimal tools and cost.
The second tool Professor Prakash discussed was Octopi; an automated modular microscope that can be built for under $100. This tool was developed to speed up identification and diagnosis of malaria in a field setting. Traditional identification methods can take upwards of 30 minutes just to identify a negative result on a slide, Octopi allows automated imaging of 15,000,000 slides in five minutes, including identification, classification and diagnostics. Professor Prakash is hoping to scale the number of Octopi microscopes in the world, creating a consortium to identify, not just malaria, but other parasites as well, to improve diagnostics for people with limited access to healthcare.
Professor Prakash then finished his talk by talking about scaling projects, using the Foldscope as an example. The idea behind Foldscope was to design a tool to watch a single bacterium but costs less than $1 to make. 1,400,000 Foldscopes have now been shipped to 158 countries. They have used the project in a number of diverse ways, from training traditional farmers in India to identify pathogens in their crops to teaching science to children in conflict zones.
Professor Prakash's closing remarks were a call to the scientists listening about the importance of sharing science, highlighting the coronavirus outbreak in India saying the pandemic is a "global problem that needs to be sorted by global tools".
Learn more about Professor Manu Prakash's research in this news story.
You can view Professor Prakash's full Prize Lecture below.
Unilever Colworth Prize 2020