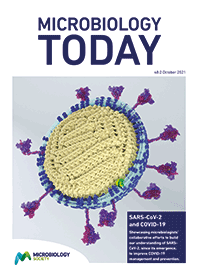 To view and print this document, you will need to download Adobe Acrobat Reader.
SARS-CoV-2 and COVID-19
12 October 2021 publication
The October edition of Microbiology Today is titled 'SARS-CoV-2 and COVID-19'. This issue is dedicated to showcasing microbiologists' collaborative efforts to build our understanding of SARS-CoV-2, since its emergence, to improve COVID-19 management and prevention.