Members Panel
The Members Panel is a group of microbiologists from historically marginalised communities who convene to bring their perspectives to the Society's efforts to ensure it is welcoming across all its activities.
The Members Panel enables us to expand the diversity of perspectives represented at decision-making level by providing a platform for members from minoritised ethnic and racial groups, members who are disabled, and members from other historically marginalised backgrounds to convene.
Panel members
| | |
| --- | --- |
| Aisha Baba Dikwa | Research Associate, University of Manchester, UK |
| Aliyah Debbonaire | Postdoctoral Research Assistant, Aberystwyth University, UK |
| Anjam Khan | Director, Infectious Diseases Facility, Newcastle University, UK |
| Arindam Mitra | Professor of Microbiology, Adamas University, India |
| Edward Cunningham-Oakes (co-Chair) | Postdoctoral Research Associate, University of Liverpool, UK |
| Guerrino Macori | Research Scientist, University College Dublin, Ireland |
| I'ah Donovan Banfield | PhD Student, University of Liverpool, UK |
| Jo Verran | Emeritus Professor of Microbiology, Manchester Metropolitan University, UK |
| Jordan Murray | PhD Student, University of Strathclyde, UK |
| Karen Campos Leon | Currently on a career break |
| Kevin Maringer (co-Chair) | Group Leader, The Pirbright Institute, UK |
| Kirsty Jones | PhD Student, Staffordshire University, UK |
| Prerna Vohra | Lecturer in Microbiology, University of Edinburgh, UK |
| Roshan Nepal | PhD Student, University of Adelaide, Australia |
| Rowan Casey | Undergraduate Student, Univeristy of York, UK |
The Panel's co-Chairs work with the General Secretary's Group to ensure that equality, diversity and inclusion matters continue to be appropriately considered at the highest level of Society governance.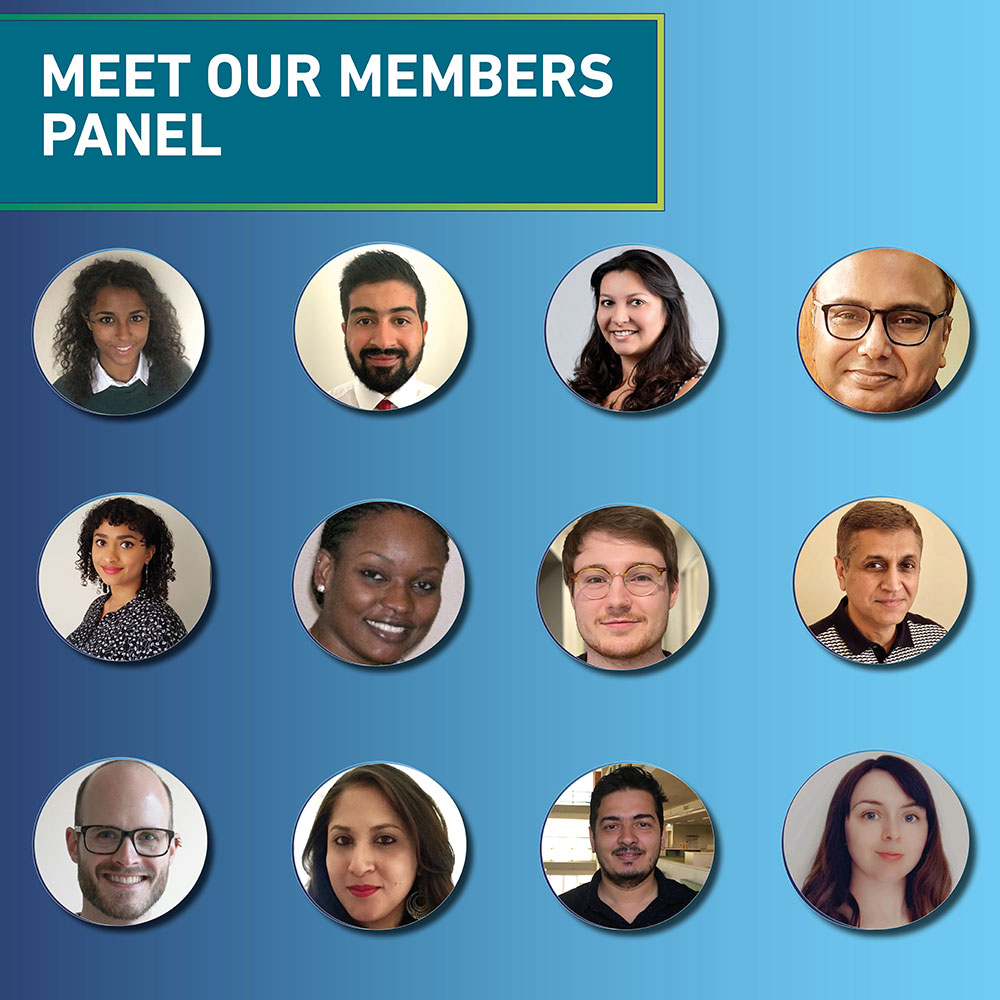 Selection of Chair and Panel members
The Members Panel aims to represent the full breadth of our membership, bringing unheard voices to the fore. We sought representatives from Black and Asian members and those from other minoritised ethnic groups; members who identify as LGBTQ+ and members who have disabilities or long-term illnesses that impact their experience working in microbiology. Members of the Panel are required to have an enthusiasm for inclusion and ideas for helping the Microbiology Society to be welcoming to anyone interested in microbes, their effects and their uses. The Terms of Reference for the Panel can be found below.

Members Panel Terms of Reference