Black History Month: celebrating the work of black microbiologists
Posted on October 30, 2020 by Matt Bassett
This is the fourth in our series of Black History Month blog posts, in which we're examining how black microbiologists have shaped the field of microbiology. In this post, we'll highlight some of the work and achievements of Faith Uwadiae, Jane Hinton and Harold Amos.
Faith Uwadiae
Dr Faith Uwadiae is currently working as a Postdoctoral Training Fellow at the Francis Crick Institute, but in her school days her sights were set on a different path, something more arts based. However her teachers suggested taking GCSE sciences to keep her options open, and it was during this time that she fell in love with biology.

Dr Uwadiae is of Nigerian descent and has said that it is this identity that motivates her research into improving our understanding of malaria. Her research at the Francis Crick Institute is looking into the immunological link between malaria and a type of cancer known as Burkitt's Lymphoma. The link between the two has been known about for some time but isn't fully understood.

As well as her research, Dr Uwadiae has given talks on her experiences as a black female scientist, including a lecture at Durham University titled "What does a scientist look like?", and a webinar hosted by the British Society for Immunology on diversity and inclusion in STEM.
Jane Hinton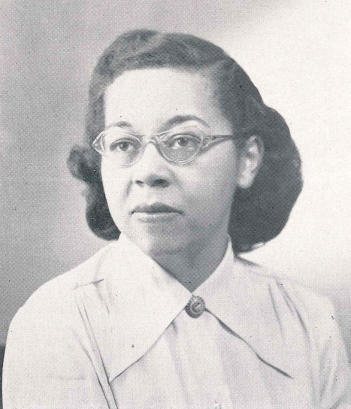 Born in 1919, Dr Jane Hinton, daughter of Professor William Hinton, was one of the first two African-American women to gain a degree as a Doctor of Veterinary Medicine.

When she was six, Hinton's parents sent her and her sister to school in Europe, ensuring that they would have the best education available to black students at that time. Returning to America in 1928, Hinton continued her education, first in a high school in Vermont, then earning her bachelors from Simmons College, Boston, in 1939. Following her education, she started her career working in Harvard's laboratories. It was there that she co-developed the Mueller-Hinton agar with John Howard Mueller. The agar was a medium developed to isolate Neisseria, the bacteria that causes gonorrhoea and meningococcal meningitis. The medium enables bacteria to thrive and has become one of the standard methods used to test bacterial resistance to antibiotics.

During World War II, Hinton worked as a medical technician for the U.S. War Department. After the war ended, she enrolled in the School of Veterinary Medicine at the University of Pennsylvania. It was here that, together with Alfreda Johnson Webb, she became the joint first African American woman to earn the Doctor of Veterinary Medicine (VMD) degree in 1949. There had only been four African American VMD graduates prior to Hinton and Webb, and it was nearly 20 years until there was another in 1968. In addition, Hinton and Webb were the first African American members of the Women's Veterinary Medicine Association.
Harold Amos
Born in 1918, Dr Harold Amos first gained an interest in microbiology from reading the biography of one of the fathers of microbiology, Louis Pasteur. Spending his early years in segregated schools, he completed high school at the top of his class, and at a time where scholarships were rare for African Americans, gained a full scholarship to Springfield College in Massachusetts.

After World War II, Amos began his studies at Harvard Medical School, raising his profile as he earnt his master's degree in 1947 and PhD in 1952. After gaining his PhD he joined the Harvard Medical School faculty, working as a teacher. He worked his way up to Chair of the bacteriology department, becoming the first African American department Chair.

As well as being Chair of the department, Amos was named the Maude and Lillian Presley Professor of Microbiology and Molecular Genetics in 1975. He also received several awards, including the National Academy of Sciences' Public Welfare Medal and the Harvard Centennial Medal.

Amos was noted for his research and teaching, and as such, the Division of Medical Sciences graduate student lounge was named in his honour. He was however a very modest man, epitomised when he refused to sit for a sculpture when it was decided his bust should be placed in the lounge. A photograph was eventually used by the sculpture, but had to be obtained in secret.