FIS 2019: Improving the dialogue between health-related professionals and career scientists
Posted on December 19, 2019 by Professor Sheila Patrick
Over 600 delegates attended the Federation of Infection Societies (FIS) 2019 in November this year. The meeting, hosted by the Microbiology Society, was held in Edinburgh and provided a unique interface for delegates from diverse backgrounds, all with an interest in infection, to interact.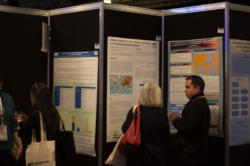 Consultants and trainees in medical microbiology and infectious disease, infection control nurses, pharmacists, biomedical laboratory scientists and basic scientists all attended to share their research, medical cases, experiences, thoughts and ideas. The conference benefits not just the study of microbiology in the context of infectious disease, but also the practicalities of treatment and prevention. It provided continuing professional development at all levels, from trainee to senior consultant. It therefore has both direct and indirect impact for patients within the UK NHS and globally.
Conference highlights include Professor Robin Patel's plenary lecture on the diagnosis and treatment of prosthetic joint infections. Professor Patel is the Director of Infectious Diseases and Chair of the Division of Clinical Microbiology at the Mayo Clinic in Rochester, Minnesota. She is also the current President of the American Society for Microbiology. Dr Alan Walker of the Rowett Institute, University of Aberdeen, provided another highlight with his measured appraisal of the hopes, hypes and prospects for therapeutic interventions in relation to the human gut microbiota.
FIS also saw the launch of the Microbiology Society's Infection Science Awards to foster interaction between health-related professional trainees and early career research scientists in the field of microbiology. This is the start of a reciprocal process: bursaries for attendance at the Microbiology Society Annual Conference 2020 were awarded to the best offered oral presenters at FIS. The next stage will be to award bursaries to offered oral presenters at the Microbiology Society Annual Conference to attend FIS 2020. By doing this we intend to improve the dialogue between health-related professionals and career scientists that will build in coming years to the future benefit of basic and translational research in microbiology.