Laura Piddock: 2014 winner of the Marjory Stephenson Prize
Posted on May 3, 2021 by Microbiology Society
Each year, the Microbiology Society awards five Prize Lectures in recognition of significant contributions to microbiology. The awards celebrate the outstanding applications of microbiology to research, education and translation and all members are invited to nominate an outstanding microbiologist for a Microbiology Society Prize. We got in touch with former Marjory Stephenson Prize winner, Professor Laura Piddock, University of Birmingham, to ask a few questions about her award and how this has impacted her research since.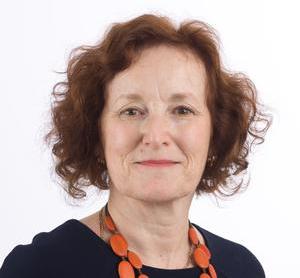 My research focuses on how antibiotic resistance arises and defining and characterizing mechanisms of resistance that have a clinical relevance. Current work is exploring mechanisms of regulation of expression of Gram-negative bacterial efflux pumps, identifying inhibitors of efflux and investigating the mechanisms by which bacteria can evade inhibition of multidrug efflux pumps.
How has your work developed since winning your Prize?
Much of my team's work on multidrug efflux has focused on translating our basic research into an early drug discovery collaborative research programme with a pharmaceutical company. This aimed to identify and characterise efflux inhibitors for potential to add as an adjuvant to currently available antibiotics and so restore drug-susceptibility and clinical utility to the drugs impacted by drug-resistance so that they can be used once again to treat infections by specific bacterial species.
What was the highlight of delivering your lecture?
The opportunity to share my work about drug resistance to an audience with a wide variety of microbiological interests and at different stages of their career.
Why do you believe it is important to nominate colleagues for the Society's Prize Lectures?
These lectures allow the awardees to share their knowledge and experience of a specific area of Microbiology to a broad audience who are attracted to the lecture because the speaker and their work has been deemed worthy of an award. This also provides an incentive to others that one's contributions do not go unnoticed, even if one thinks they are!
How did you find your overall experience from being nominated for the award to giving your talk?
Being nominated was a surprise and pleasure. I had no anticipation of being successful as the prior awardees were so illustrious. Therefore, I was extremely honoured to receive the award and then to find that I was the first woman to receive it in her own right (Yuan Chang received it jointly with Patrick Moore in 2012) made it even more special. (I note with disappointment that there have not been any women awardees since 2014). I gave my talk to a wide ranging audience with interesting questions, so this too was enjoyable.
The Microbiology Society supports Equality and Diversity and asks that those making nominations consider the entire talent pool available.
To nominate someone for a Prize Lecture, please visit the relevant Prize Lecture page to find out more about its remit, judging criteria and past winners of the Prize. You will also be able to download the nomination form on this page. We have provided example nomination forms to demonstrate the level of detail required for nominations.
Complete nominations along with any supporting documentation should be submitted to [email protected] by no later than 27 May 2021.
If you have any queries, would like to be put in touch with a second nominator, or would like to talk through your ideas for a nomination, please contact the Microbiology Society Prizes team.