Nicola Stanley-Wall: 2009 winner of the Fleming prize
Posted on April 8, 2021 by Nicola Stanley-Wall
Each year, the Microbiology Society awards five Prize Lectures in recognition of significant contributions to microbiology. The awards celebrate the outstanding applications of microbiology to research, education and translation and all members are invited to nominate an outstanding microbiologist for a Microbiology Society Prize. We got in touch with former Fleming Prize winner, Professor Nicola Stanley-Wall, University of Dundee, to ask a few questions about her award and how this has impacted her research since.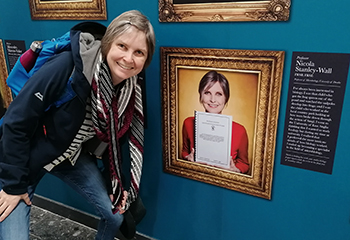 The main research interest of my laboratory is understanding the ability of unicellular bacteria to co-ordinate responses and to act as a multicellular population. One mechanism whereby bacteria function as a multicellular population is in a biofilm, a community of bacterial cells that is adherent to a surface, interface or to each other and encased in a self-produced polymeric matrix.  We research the molecules in the biofilm matrix that provide support and protection to biofilms formed by the Gram-positive bacterium Bacillus subtilis. We are also interested in how the bacterium regulates the process of biofilm formation, investigating the regulators and environmental cues that trigger biofilm matrix production.  
How has your work developed since winning your Prize? 
Initially, our research interests were predominantly centred on using molecular biology and biochemistry to understand how bacterial build multicellular communities called biofilms. However, since being awarded the Fleming Prize my laboratory has increased the breadth of research methods we used to tackle scientific problems. This has been achieved through collaboration and we now work closely with Prof Cait MacPhee, a biophysicist from the University of Edinburgh, and Prof Fordyce Davidson, a mathematician who is also based at the University of Dundee.  
What was the highlight of delivering your lecture? 
I gave my talk in a large room in Harrogate, it was the first time I had presented to such a large audience. It was very humbling to see so many people attend my talk session and to have the chance to present the work of my lab.  
Why do you believe it is important to nominate colleagues for the Society's Prize Lectures? 
By the very nature of academic life, there is a lot of rejection! This can be demoralising and hard to contend with. One way that you can help bolster your colleagues is by showing them that you believe in them, and their work, by nominating them for the Society's Prize Lectures. Even if you are not successful with the nomination the personal support can be critical and highly valued.  
How did you find your overall experience from being nominated for the award to giving your talk? 
The process of being nominated was simple for me. My long-term mentor Prof Tracy Palmer asked if she could nominate me, and I was very happy and honoured to be put forward. Hearing the positive outcome was one of the best days of my scientific career.
The Microbiology Society supports Equality and Diversity and asks that those making nominations consider the entire talent pool available.
To nominate someone for a Prize Lecture, please visit the relevant Prize Lecture page to find out more about its remit, judging criteria and past winners of the Prize. You will also be able to download the nomination form on this page. We have provided example nomination forms to demonstrate the level of detail required for nominations.
Complete nominations along with any supporting documentation should be submitted to [email protected] by no later than 27 May 2021.
If you have any queries, would like to be put in touch with a second nominator, or would like to talk through your ideas for a nomination, please contact the Microbiology Society Prizes team.