Sir David Baulcombe: winner of the Prize Medal
Posted on May 24, 2021 by Microbiology Society
Each year, the Microbiology Society awards five Prize Lectures in recognition of significant contributions to microbiology. The awards celebrate the outstanding applications of microbiology to research, education and translation and all members are invited to nominate an outstanding microbiologist for a Microbiology Society Prize. We got in touch with former Prize Medal winner, Professor Sir David Baulcombe, University of Cambridge, to ask a few questions about his award and how this has impacted his research and work since.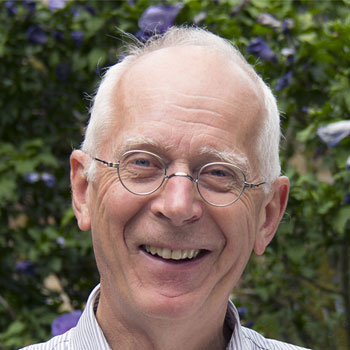 My research is based on our discovery of an antiviral immune system in plants which has small RNA as a key component. The RNA is derived from an infecting virus, amplified by a host polymerase and then used to target enzymes that degrade viral RNA or methylate their DNA. As a defense system it is brilliant because it is highly specific for the virus and does not target host RNAs. The system is also highly effective because the small RNA can move between cells and prime uninfected cells to block the virus.
How has your work developed since winning your Prize? 
Notwithstanding the specificity of the small RNA, the defense mechanism does have a cost. There is also a benefit to the virus, because it is prevented by the small RNA from killing the host cell on which it is totally dependent. Appreciation of this point led me into thinking and researching the trade-off of costs and benefits of antiviral defense to both the host and the virus. The underlying concepts are relevant to virus disease in all organisms, including humans. It is a topical subject.
What was the highlight of delivering your Lecture? 
I have been a member for more than 30 years and have given talks to the virology sector, but never before to the Society as a whole. It was good to meet friends and colleagues and to talk with them about microbiology.
Why do you believe it is important to nominate colleagues for the Society's Prize Lectures? 
The Prize Lectures fill in gaps in our general education and are a source of ideas and inspiration in our own research areas. I hope my Lecture filled some gaps and provided a little inspiration.
How did you find your overall experience from being nominated for the award to giving your talk? 
I did not know I had been nominated, so the award news was a wonderful surprise. Even older and more senior scientists can enjoy a bit of positive reinforcement, especially when it comes from a Society that really understands their research.
The Microbiology Society supports Equality and Diversity and asks that those making nominations consider the entire talent pool available.  
To nominate someone for a Prize Lecture, please visit the relevant Prize Lecture page to find out more about its remit, judging criteria and past winners of the Prize. You will also be able to download the nomination form on this page. We have provided example nomination forms to demonstrate the level of detail required for nominations.  
Complete nominations along with any supporting documentation should be submitted to [email protected] by no later than 27 May 2021.    
If you have any queries, would like to be put in touch with a second nominator, or would like to talk through your ideas for a nomination, please contact the Microbiology Society Prizes team.