Stephen Curry: winner of the Peter Wildy Prize
Posted on May 14, 2021 by Microbiology Society
Each year, the Microbiology Society awards five Prize Lectures in recognition of significant contributions to microbiology. The awards celebrate the outstanding applications of microbiology to research, education and translation and all members are invited to nominate an outstanding microbiologist for a Microbiology Society Prize. We got in touch with former Peter Wildy Prize winner, Professor Stephen Curry, Imperial College London, to ask a few questions about his award and how this has impacted his research and work since.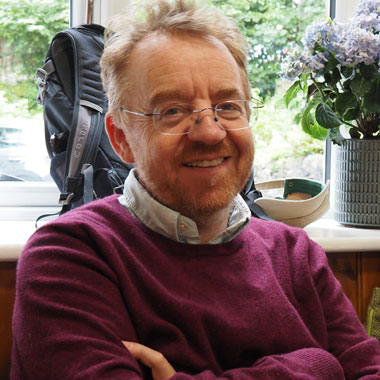 I'm a structural biologist whose primary interests were in RNA viruses, especially the picornaviruses foot-and-mouth disease virus and poliovirus and later, caliciviruses. I worked initially on a number of aspects of the virus replication cycle, including receptor-binding and cell entry. When I set up my own lab, I switched my focus to events that occur after the virus has entered the cell – the initiation of translation and the mechanisms of viral-encoded enzymes such as proteases and helicases. 
How has your work developed since winning your Prize? 
It has developed dramatically in that I have stopped doing research! I hasten to add that wasn't because of the lecture. A few years ago, I found myself looking for a new challenge and have switched my attention instead to issues relating to the culture of universities and research. I spend most of my time now as the Assistant Provost for Equality, Diversity and Inclusion at Imperial College London, aiming to build an environment for work and study that is truly inclusive. This is a more complex and demanding task than solving biomolecular structures by x-ray crystallography. I have not left virology behind completely, as I remain involved in teaching undergraduate and postgraduate students in the Department of Life Sciences. In my 'spare' time (ha ha), I am working on another aspect of research culture as Chair of the Declaration on Research Assessment (DORA).
What was the highlight of delivering your lecture? 
I think I recall mentioning in my talk that academia is one of the only spheres of human endeavour where winning a prize entails more work! Nevertheless, I enjoyed putting my lecture together and having the chance to share some of the lessons that I learned from my various public engagement activities. It was very pleasing to have such a positive response to the lecture. I continue to believe that researchers must continue to be open to public engagement, which has to be a two-way process. The worldwide response to the COVID-19 pandemic has shown us all the power of science and technology, but also the importance of early engagement with the hopes and fears of our fellow citizens.
Why do you believe it is important to nominate colleagues for the Society's Prize Lectures? 
Largely for the reasons given in my answer to the previous question. Science has to be open and for us to achieve that, we need to recognise and reward those who have made substantial efforts to open the doors of the academy.
How did you find your overall experience from being nominated for the award to giving your talk? 
It was very positive, though the machinations of the nomination process are a little obscure to me. I hope the Microbiology Society is mindful of casting the net as wide as possible in the search for nominations. I know from my experience with other organisations how easy it can be to fall prey to 'usual suspects syndrome'.
Nominations for the 2022 Prize Lectures and the 2023 Prize Medal lecture are now welcomed. 
The Microbiology Society supports Equality and Diversity and asks that those making nominations consider the entire talent pool available. 
To nominate someone for a Prize Lecture, please visit the relevant Prize Lecture page to find out more about its remit, judging criteria and past winners of the Prize. You will also be able to download the nomination form on this page. We have provided example nomination forms to demonstrate the level of detail required for nominations. 
Complete nominations along with any supporting documentation should be submitted to [email protected] by no later than 27 May 2021.   
If you have any queries, would like to be put in touch with a second nominator, or would like to talk through your ideas for a nomination, please contact the Microbiology Society Prizes team.