Trans Day of Visibility: Rowan Casey
Posted on March 31, 2023 by Microbiology Society
Trans Day of Visibility takes place every year on 31 March to celebrate trans and non-binary people in addition to raising awareness of the discrimination faced by trans people.

To mark the day, we caught up with Members Panel member, Rowan Casey to discuss some of the challenges facing trans people studying or working in science.
---
"To me, Trans Day of Visibility is not about celebration or being visible ourselves but being visible in saying we will not accept how society currently treats us." Rowan Casey
---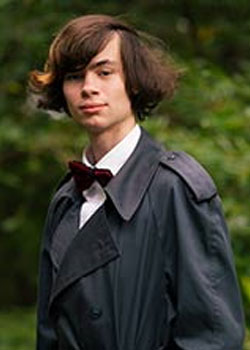 Could you tell us about yourself?
I am a Masters student at the University of York, UK, currently writing my dissertation on the conformation of CCR5 upon HIV-1 Env binding. In October, I will be starting my PhD at Cardiff University, UK, researching the interaction of HCMV and SARS-CoV-2 vaccines with the immune system in kidney transplant patients.
It's Trans Day of Visibility on 31 March 2023; will you be doing anything to celebrate or raise awareness?
To me, Trans Day of Visibility is not about celebration or being visible ourselves but being visible in saying we will not accept how society currently treats us. Indeed, I don't feel there is anything particularly to celebrate, with rampant transphobia and hate. What I am doing this year to raise awareness is this interview, sharing our experiences with the scientific community. Privately, I will be holding a short vigil to remember my trans friends who are unfortunately no longer with us.
As a trans person studying science, what are some of the challenges you have faced?
I think the challenge that most microbiologists would be surprised by is the blatant transphobia I have experienced working in the field. From being told my parents should have aborted me to direct questions about my body, the comments of some of my peers and academics have been deeply inappropriate.
Overall, I think this biggest barrier to trans and nonbinary people to science is before higher education. Out of the 30 or so trans people I grew up with, only I made it to university, most not even completing further education. Until, as a society, we better support our young trans people in education and at home, we will always be underrepresented in microbiology.
Is there any advice that you would give to other people who identity as trans working in or studying microbiology (or hoping to in the future)?
My advice would be is to be persistent with your studies, no matter the challenges placed in your way.
When and why did you first become interested in microbiology?
During an end-of-year chemistry lesson, I have a vivid memory of watching Dr Michael Mosley touring Porton Down in a BBC documentary. I was enthralled with their experiments with Ebola, and later forced my family to watch the documentary to their chagrin. I think, from that moment on, I was sold to biochemistry, though I dabbled with toxicology before settling as a virologist.
Do you have any role models, if so, who?
I have always held one of my past chemistry lecturers, Professor David Smith, in very high esteem. His work to decolonise the curriculum in his lectures and indeed his department is deeply impressive to me, and something I wish to replicate in the future. I highly respect his lecturing on the AIDS epidemic, not only talking about the scientific theory, but also its impact on him growing up as LGBTQ+. I cannot imagine it was easy for Professor Smith talking about these experiences, but I do not think I have ever had a lecture make such an impact on me.
What do you hope to achieve in your future career?
In my personal philosophy, a few generations down the line we will all be forgotten, and only a few lucky individuals' research will still be being cited. Thus, the most important thing for me is to make a tangible difference on society, be it through understanding a virus better or developing a new treatment. To give someone the chance to have longer with a loved one is my ultimate goal.
Finally, what made you decide to join our Members Panel?
Attending conferences as an undergraduate and attempting to network, I never felt I had guidance on how to prepare for a PhD or a career in academia. I joined the Members Panel to improve the guidance and support for undergraduate students and represent my peers to the Microbiology Society. I also have a background in the representation of various historically marginalised groups, which I take into my work on the Members Panel.
To find out more about the work our Members Panel are doing to improve equality, diversity and inclusion at the Microbiology Society, take a look at the Equality, Diversity and Inclusion section of our website.