A Sustainable Future policy reports published today
17 December 2020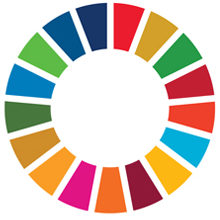 Today, the Microbiology Society has published three reports on the opportunities and challenges microbiology faces in areas of key sustainability.

To mark the 75th anniversary of the Microbiology Society, we embarked on an ambitious project that demonstrates the value and raises the profile of microbiology in addressing the world's biggest challenges.
The reports focus on antimicrobial resistance (AMR), soil heath and a circular economy, and provide key recommendations to maximise the impact of microbiologists working in these fields.
Each report contains the recommendations, case studies of microbiologists working in the field, opinion pieces and reviews on how microbiology can help tackle the global challenges set out in the United Nations Sustainable Development Goals (SDGs).
Microbiology can contribute to achieving the SDGs in many ways. Given the breadth of the discipline of microbiology, it can play a role in accomplishing almost all of the 17 Goals.
The full reports – and a fourth report summarising the project findings and key recommendations – are now available to read in the 'A Sustainable Future' area of the Microbiology Society website.
Tackling the issue of AMR aligns with many of the SDGs; specifically, those related to poverty (SDG 1), human health (SDG 3), food security and agriculture (SDG 2), clean sanitation (SDG 6) and economic growth (SDG 8). Microbiology is at the forefront of developing novel antimicrobial compounds, vaccine research, providing sustainable solutions for treating livestock and crop diseases, unravelling disease transmission patterns across ecosystems and informing which antimicrobials should be prescribed when. Therefore, the microbiology community is pivotal for AMR research and can have a major influence in this area, which can contribute to delivering the SDGs.
The current landscape of AMR research in the UK and Ireland is highly active and expansive. However, the challenge is significant, and some aspects of the research must be augmented in order to provide new solutions to infections caused by antimicrobial-resistant organisms. Whilst basic research is fundamental to understanding the how and why, the field also needs to be more applied, aiming to translate findings into new interventions through enhanced interactions with other disciplines and industrial partners.
Micro-organisms improve crop productivity and sustainable agriculture (SDG 2: no hunger). They play a role in pollution bioremediation, promotion of soil formation, prevention of soil erosion (SDG 6: clean water and sanitisation; SDG 15: life on land) and in carbon sequestration and reduction of greenhouse gas emissions (SDG 13: climate action). Microbes can also be used for improved control of pollutants, pathogens and nutrients (SDG 2: good health and well-being). Achieving soil health is not only relevant to agriculture, but rural and urban societies alike will benefit as better-quality land becomes available for use, while natural environments will benefit from improvements in microbial biodiversity.
The EU has raised soil health as one its top five priorities and many global initiatives are emerging in the area of soil protection. The UK should take advantage of this increased profile to consolidate active communities working together to improve the uptake and development of new sustainable land management practices.
Microbiology is essential for the development of the circular economy, including in the areas of plastic and food waste. It allows the use of renewable bio-based resources (e.g. agricultural side streams and food processing side streams) and their conversion into products of value using microbial enzymes and whole cell processes such as anaerobic digestion, thereby addressing SDG 7 (affordable and clean energy), SDG 9 (industry, innovation and infrastructure) and SDG 12 (responsible consumption and production). Microbes in soil can contribute to soil health and regenerative agriculture (SDG 15: life on land). Microbiologists and chemical engineers can collaborate to make wastewater treatment less energy-intensive and help achieve SDG 6 (clean water and sanitation).
Open and broad collaboration is essential to realising the transition of our society from a linear to a circular economy, which is interlinked with the challenge of achieving climate neutrality. Microbiologists must engage the wider public, policymakers and industry to inform the debate on addressing grand challenges and showcase the positive impacts of microbiology for society as a whole.