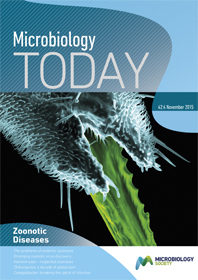 To view and print this document, you will need to download Adobe Acrobat Reader.
Zoonotic diseases
05 November 2015 publication
Emerging zoonotic diseases, such as chikungunya, are not the only cause for concern; some zoonotic diseases, like rabies, have been circulating for centuries – both of these diseases are covered in this issue of Microbiology Today. Other articles cover the topics of hantaviruses spread by rodent vectors, the lesser known but common Campylobacter, and the Comment piece discusses the recent Ebola pandemic.