Meet the Young Microbiologist of the Year finalists: Emily Warman
Posted on November 17, 2020 by Microbiology Society
The Sir Howard Dalton Young Microbiologist of the Year Prize is awarded by the Society each year. The prize recognises and rewards excellence in science communication by a Microbiology Society member who is a postgraduate student or postdoctoral researcher, having gained their PhD in the last two years. The young scientists on this shortlist will give a 15-minute presentation at Why Microbiologists Matter on Wednesday 25 November. In the run up to the event, we will be getting to know the finalists.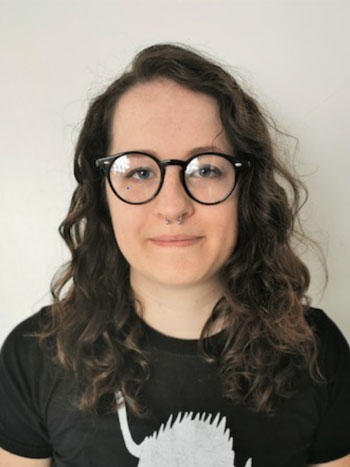 Prokaryotic Division finalist: Emily Warman
Current position: Postdoctoral researcher at the Institute of Microbiology and Infection, University of Birmingham
Title of talk: Discovering new properties of bacterial promoters
Research interests: My research explores the mechanisms of bacterial gene regulation. I am particularly interested in pervasive transcription, where cells constantly make non-functional RNA transcripts. This transcriptional 'background noise' isn't good for the cell so we are looking at why it happens and how it is regulated.
Theme of talk: I will introduce my research on bacterial promoters. During transcription, DNA is read and copied to make RNA. Promoters are the DNA sequences which determine where transcription should begin. I look for promoters with unexpected properties. For example, many promoters have a sequence which allows them to work in both directions. These 'bidirectional' promoters are widespread and are likely to have a significant impact on bacterial transcription.
If I was not a microbiologist, I would be… I originally planned to study medicine so I would probably be a doctor. But my dream job would be to run a brewery, combining my skills as a scientist with my love of beer!
Emily's talk will take place during Why Microbiologists Matter on 25 November. For more information about the event, or to register, visit the event page. Stay tuned for more finalist profiles in the coming weeks.
Previously published profiles can be found below: