Celebrating International Volunteer Day 2022
05 December 2022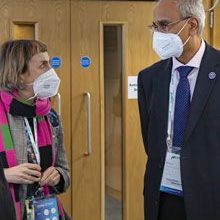 International Volunteer Day takes place every year on 5 December and it gives us a great opportunity to reflect on the vital work of volunteers in helping the Microbiology Society to achieve everything it does.
The Society is led by our Council, the Society's governing board. Working with the Council are the General Secretary's Group, five Committees, three Standing Panels, four General Secretary's panels and Divisions and six Editorial Boards, all of which are made up of dedicated volunteers. There are also members who support our staff in organising events and of course, our wonderful Champions, who promote the Society in their local area via outreach activities. Thank you to everyone involved in any of these activities and those who have given their time to the Society in other ways over the past year.
2022 was the year we got back on the road after two years of online activities and we could not have organised such a successful in-person Annual Conference 2022 in Belfast; the Early Career Microbiologists' (ECM) Forum Summer Conference 2022 in Sheffield; three Roadshows with our new President, Professor Gurdyal S. Besra, or a record breaking, nine Focused Meetings all over the UK and Ireland without the support and guidance of volunteer members!
We still continued our online offering to connect with our members across the world, with the monthly JMM Seminar Series; Microbial Genomics Seminar Series; Get Involved events about our Shadowing Scheme and policy work; the 2022 Annual General Meeting; Society Showcase 2022 and Queer in Microbiology: A Conversation all taking place online and relying on a host of volunteers to make them a success.
We have also published insightful pieces written by our members in our biannual magazine, Microbiology Today; introduced the Members Panel to support our efforts in equity, diversity and inclusion; converted Access Microbiology to an open research platform and prepared for Microbiology to become fully open access in the new year. What a busy year it has been!
Thank you again to all of our members, Council, Committee, Panel and Division members, Editors, reviewers and Champions for your continued support.
Chris Randall, Editor of Microbiology Today, is going into his final year as Editor of the magazine in 2023. Here is what he had to say about his experience of volunteering at the Society:
"I have thoroughly enjoyed my time as Editor of Microbiology Today. Whilst the role has provided me with some excellent career development opportunities, it has been the opportunity to work with Society members around the world and help them channel their enthusiasm into print form that has made the role such a memorable experience."
If you would like to get more involved in our activities by volunteering with the Society, take a look at our voluntary vacancies which are listed on our jobs page. Alternatively, you can email us via [email protected] for more information.