Travel Grant recipient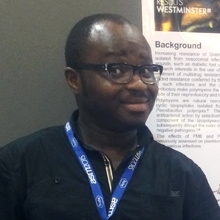 George Gyamfi-Brobbey, PhD student, University of Westminster
Abstract presented: the in vitro assessment of the synergy between polymyxin B (PMB) and polymyxin B nonapeptide (PMBN) and antibiotics on biofilms from diabetic foot infections.
George was awarded a Travel Grant in 2015 to present a poster at the 115th American Society for Microbiology (ASM) Annual General Meeting, in New Orleans, USA. George said that being part of one of the biggest gatherings of microbiologists was "an incredible experience as far as my career in research is concerned."
George met other microbiologists with similar research interests and was able to exchange ideas with them: "I made several contacts and networked with leading researchers in both academia and industry."
The ASM meeting was useful to George's career: "I have a clear mind about my next career path, which is research, either in academia or industry. I have also networked with people [in both sectors] who are willing to either be part of my next career path through collaborations or provide some guidance."
---
Go back to Previous Grant recipients.