News
Encouraging dialogue between researchers, the media and the public
We are committed to promoting the public understanding of microbiology through the media and our members are central to our communications. Here you can find the latest from the Society.
Latest videos from our YouTube channel
---
Follow the Society on social media
Contact details for media enquiries
For media enquiries please contact [email protected].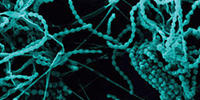 Journal news and updates
For the latest updates on our journals, visit the Microbiology Society Journals site.
View our journals