An interview with Dr Blessing Oyedemi
December 2019
Dr Blessing Oyedemi is a Postdoctoral Fellow at Nottingham Trent University. Her research focuses on AMR and new antimicrobial drug discovery. At the university, she also teaches microbiology modules to students within bioscience disciplines. In this interview, she talks about her career as a scientist and her involvement with the Microbiology Society.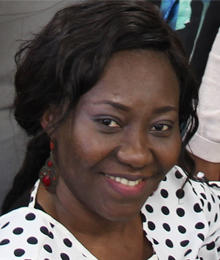 Tell us a little about your current role.
Currently, I teach microbiology modules and support Biosciences students in Nottingham Trent University while for the last two years, I have worked as a postdoctoral research fellow investigating antiquorum sensing biomolecules against multidrug-resistant Pseudomonas aeruginosa and identification of novel antimicrobial targets.
What is a typical working day for you?
My typical working day comprises of a variety of tasks depending on my work plan, but the main activities usually include: to design and carry out laboratory-based experiments and result analysis; to write manuscripts/reports including literature searches, to prepare and teach my lessons and attend to any student problems; and attend meetings such as reviews, boards or academic presentations. I enjoy those moments of interactions with my students or with any wider audience.
What are the most important skills you need for your current role?
In response to the question, I would say communication skills (being able to listen well, understand and speak clearly to people and the ability to articulate ideas and write them clearly and legibly). In addition, organisation and innovation skills. These are important because research and teaching involve loads of conceptualisation and planning, being analytical but with an open mind for new ideas and ways of doing things better. Whether I am in work or informal mode, I love arranging or re-arranging ideas. During events or teamwork, I think of alternative perspectives or approaches for effective outcomes. I love to work with people, to mobilise and inspire those within my circle, especially young people so we can achieve more for a better society.
What qualifications did you obtain before starting this role?
I had a Commonwealth-funded PhD from UCL with a research focus on natural antimicrobial products that target resistance mechanisms such as efflux, R-plasmid, and biofilms in bacteria, and have published four texts on my results. Turning to my BSc and MSc degrees in Nigeria, I studied Biological Sciences with a focus on Plant Science and Microbiology. I also have ten years of experience teaching university-level courses, in addition to being a driven professional early career scientist pursuing a high impact research career. Among other relevant training, I have had funded pre-doctoral training at Fort Hare University South Africa as well as a recent Commonwealth postdoctoral fellowship at the University of Nottingham, UK.
What is your area of specialism and why is it important?
My research interest centres around understanding the drivers of antimicrobial resistance and discovering natural antimicrobial drugs that act as inhibitors of molecular mechanisms of antibiotic resistance for drug development. Some of my recent publications highlighted World Health Organization (WHO) listed priority organisms such as methicillin-resistant Staphylococcus aureus (MRSA), multidrug-resistant Pseudomonas aeruginosa and plasmid-mediated resistant Escherichia coli. This is significant given the urgent need for new antimicrobial agents to replace the empty antibiotic pipelines in the face of the looming crisis of antibiotic resistance. I would also like to explore socioeconomic factors that drive AMR, such as poverty, inequality, and inadequate diagnostics within the current low-resource context in Africa.
What are the professional challenges that present themselves, and how do you try to overcome them?
There are apparent professional challenges given that I am an early academic scientist. One always has to compete for research funding, the next postdoc position, and at the same time, the pressure to publish high-impact journal articles as first author, to maintain competitive edge, or co-author to show collaborations. Spending time in the lab is essential but so is networking and gaining mentorship. Managing these pressures can be daunting, but I have learned to stay focused and true to my inspiration and apply perseverance to help pave my career path. I also take out time to pursue personal interests and attend to my family; that way I find balance, relaxation and the drive to navigate my ambitious career.
Where did your interest in microbiology come from?
My interest in microbiology started in high school while studying biology, but I was even more intrigued when I took a course in pathogenic microbiology as an undergraduate. I understood enough that microbes could be useful or harmful but most importantly was the point that pathogenic organisms caused most of the epidemics like measles, diarrhoea, tuberculosis (TB) and other life-threatening infectious diseases I witnessed in my neighbourhood while growing up. From then on, my entire passion and research career has been guided towards a microbiological theme.
Tell us about your biggest professional achievement(s) so far.
I was very proud when I was recently named as one of the 25 bright and emerging young African scientists as a NEF Fellow by the prestigious Next Einstein Forum (NEF), Africa. This recognition was because of my learned engagement and contributions, by way of teaching and mentoring students to the successful completion of their BSc and MSc degrees, volunteering for girls in STEM and critical research publications that highlight those natural antimicrobial drugs that could fight antibiotic resistance. I commit to and continue to seek ways to contribute to these objectives.
Your recently became a Society Champion. Why is it important to be involved with organisations like the Microbiology Society?
This is an exciting time for me getting on board as a Society Champion. As I engage with the Society roles, these opportunities become a platform to help unlock and express my potentials as well as contribute to the objectives of the Microbiology Society. It is a great privilege to be part of a team that helps promote the future of microbiology and I'm committed to using my talents, knowledge, and time to make an impact.
You attended the Focused Meeting 'Antimicrobial drug discovery' from traditional and historical medicine. Tell us about your experience at the meeting.
It was an exciting and productive meeting, and I enjoyed every bit of each session. I had the opportunity of presenting my results to expert colleagues and I received useful feedback for my work. Not only did I meet and network with new colleagues in my field, but I also had fruitful connections that might result in future collaborations. I felt really fulfilled that natural antimicrobial drug discovery has eventually come to the frontline of society. Thank you to the Microbiology Society for funding and putting the event together at the Ashmolean Museum Oxford.
Why is it important to belong to an organisation like the Microbiology Society?
Microbiology Society is an outstanding learned society and provides incredible opportunities to learn, grow and contribute to the depth and breadth of microbiology, as well as build communication channels between microbiologists and the community to help them to understand microbes and their impact in simple language.
Why does microbiology matter?
Micro-organisms are significant in our everyday lives. Although we cannot see them with naked eyes, they are essential for the benefit of our environment, medical breakthroughs, industry, agriculture, and biotechnology. Microbes are an integral part of our rich natural reservoirs and still hold the potential of producing a novel antibiotic that could mitigate the current challenges posed by antibiotic resistance.
---
If you are a member of the Society and would like to find out more about how you can get involved with Society activities and/or showcase your research, please email us at

[email protected]

.