An interview with Dr Marwa Hassan
December 2019
Dr Marwa Hassan is a Research Fellow at the University of Warwick. She is also a member of the Microbiology Society and a Society Champion. In this interview, she tells us more about her research into the biofilms of polymicrobial communities in cystic fibrosis and her studies antimicrobial resistance in bacterial populations in cystic fibrosis.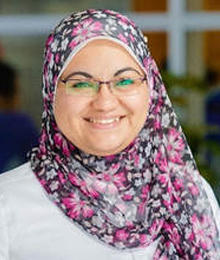 Tell us more about your research.
I am investigating antibiotic-modulated virulence to understand how bacterial biofilm communities behave under antibiotic stress, with interspecies interactions and the role of current diagnostics in failing to predict the most appropriate treatment.
What are biofilms?
Bacterial biofilms are communities of bacterial cells that are highly connected and communicated through. They are causing a lot of problems in the health care system, such as by colonising medical equipment, surfaces, and human tissues/organs. The latter leads to long-lasting chronic infections. They are also highly resistant to disinfectants and antibiotics, mainly due to their expressed extracellular matrix preventing the penetration of these biocides into cells. However, when exposed to environmental pressures or dangers, such as antibiotics, these cells can sacrifice themselves for the rest of the community. They have the ability to survive extreme hypoxic environments, which modulates their virulence and pathogenesis. They are very persistent.
How do you think we can tackle biofilms?
Given the increasing rate of antibiotic resistance and the higher tolerance of these communities, the effect of treatment and the development of the right diagnostics are two key aspects to tackle bacterial biofilms, especially in chronic infections. Therefore, I am particularly interested in bacterial biofilms that are associated with cystic fibrosis.
Why do biofilms matter to microbiology?
So, why do biofilms matter? They matter because the failure to eradicate bacterial biofilms is the main cause of death in cystic fibrosis. It also adds to the burden of antimicrobial resistance.
The failure to accurately predict the most appropriate antibiotic treatment results in a vicious cycle of increasing antibiotic resistance and complicated chronic infections, creating the next superbug. These infections are even more complex when combined with bacterial infections.
As a microbiologist with an interest in clinical microbiology, my role helps me understand these chronic bacterial infections, how they survive and respond to antibiotics and develop realistic diagnostic approaches that can accurately predict the most effective treatment. I am eager to not only outsmart these pathogens, help in developing better diagnostics and aid in discovering the next antibiotics, but also trying to help alleviate the burden of antibiotic resistance especially in complicated infections such as bacterial biofilms.
---
If you are a member of the Society and would like to find out more about how you can get involved with Society activities and/or showcase your research, please email us at

[email protected]

.