An interview with Professor Terry McGenity
August 2020
Terry McGenity is Professor of Environmental Microbiology at the University of Essex and a member of the Microbiology Society. In this interview, he tells us more about his research, which focuses on investigating haloarchaea and the biodegradation of volatile organic compounds and tells us more about why he thinks microbiology matters.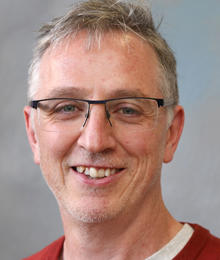 Tell us about your current research.
My two main areas of research at the moment are quite distinct. Firstly, we are investigating haloarchaea, extremely halophilic Archaea, and trying to understand how they may survive over geological time trapped inside salt crystals, and also how some species have adapted to flourish in less extreme salinities. Secondly, we are investigating biodegradation of biogenic volatile organic compounds (BVOCs), such as isoprene and acetaldehyde, both of which have a big impact on the climate. Both of these strands come together in a project funded by the UK Space Agency where we are exploring the microbiology, including BVOC production in extreme environments.
You have explored research in the world of microbial ecology, as well as studying archaeal communities. Can you tell us more about this research?
On and off since my PhD, I have investigated the question of microbial longevity; specifically, how haloarchaea may survive inside salt crystals over geological time. Evidence is accumulating that certain species of haloarchaea are particularly good survivors, ticking over inside salt-saturated brine inclusions inside the crystals, and we and others are trying to understand how they do this.
Why is this research important?
I feel that this research helps us to understand something very fundamental – the often-nebulous interface between life and death. What we learn may have implications for other microbes, including those contributing to slow but important biogeochemical cycles in the deep subsurface, and it may give clues about where to look for life beyond Earth.
Also, history has told us that it is important to carry out fundamental research purely because it's exciting, and without knowing whether or where, it will be applied. In this respect, a fascinating preprint appeared recently, in which the authors stored 3D-information in DNA, and then incorporated it into Halobacterium salinarum, which was then placed inside a salt crystal, as proof of concept for a potentially indefinite storage device (Davis J et al. 2020. 'In vivo multi-dimensional information-keeping in Halobacterium salinarum'. bioRxiv).
What qualifications did you obtain before starting this role?
I obtained my BSc and PhD from the University of Leicester, punctuated by working as a university and a hospital technician. This was followed by a year as a postdoc at the Japan Marine Science and Technology Centre (JAMSTEC) and four years working in a sedimentology department at the University of Reading. I then moved to the University of Essex as a postdoc in 1999, followed by a lectureship a few years later.
What are the professional challenges that present themselves and how do you try to overcome them?
It is a privilege to work in academia, following lines of research about which you are passionate. At the same time, it is deeply frustrating, as any academic will tell you, when particular avenues cannot easily be pursued due to funding restrictions. Despite grants being regularly turned down, it's crucial to maintain a positive outlook. For example, the writing process provides an opportunity for scholarship and cross-disciplinary interactions and discussions, which can form the basis of other grants or review papers and can feed into teaching.
What is a typical working day for you?
There is no such thing as a typical day, which is part of the beauty of the job. It can vary from a long stint of marking, to a full day focusing on research. More typically, it's a hotchpotch; for example, preparing and running classes, developing ideas to improve the experience of postgraduate students (as postgraduate director), meeting my research group, reviewing or writing grant proposals and papers.
Tell us about your biggest professional achievement(s) so far.
Excitement comes from discovery, but fulfilment comes from your research having an impact (often long after the initial idea). For example, our research into the microbial cycling of isoprene (the second most abundantly produced biogenic volatile organic compound on the planet, after methane) has led to many more groups working on this topic.
Also, it is rewarding to see research, such as understanding the chaotropicity-driven and time-induced limits of life, being discussed across diverse disciplines and appearing in textbooks. Any achievements are collective, stemming from enjoyable discussions with all manner of wonderful collaborators, colleagues and students. I am also very proud of my hard-working postgraduate students and postdocs, who go on to achieve great things.
You are an active member of the Microbiology Society, tell us more about your involvement.
My engagements with the Microbiology Society have always been enjoyable. In addition to attending meetings, chairing sessions, giving presentations and writing for Microbiology Today, I have co-organised Focused Meetings, e.g. one on Extremophiles in 2010, and another scheduled for 2021 entitled "Microbial Cycling of Volatile Organic Compounds – Biogeochemistry to Biotechnology".
Why is it important to be a member of an organisation like the Microbiology Society?
The primary advantage of being a member of a learned society is that it enables you to network and share ideas with a diverse, but like-minded community. My first talk at a conference was at a Microbiology Society meeting in Edinburgh and it is pleasing to see that there are still plenty of opportunities for early-career researchers to give offered presentations or posters, often generously supported by the Society. Also, the Harry Smith Vacation Studentships have proven to be a great way to allow enthusiastic undergraduate students to experience research in microbiology.
Where did your interest in microbiology come from?
I very nearly didn't study biology at Widnes Sixth Form College but was persuaded to do so for the first term, and then decided to continue with it. A combination of superb biology teachers and a passion to protect the environment led me to study Biological Sciences at the University of Leicester. There, Professor Bill Grant was a major inspiration as a lecturer and as supervisor of my final-year project and PhD. Thereafter, I was captivated in equal measure by the capacity of microbes to maintain the health of the planet and the tenacity of microbes living in extreme environments.
Why does microbiology matter?
Harnessing microbial activities is vital to achieving the United Nations's Sustainable Development Goals. Microbes control our atmosphere, providing half of the oxygen we breathe. They are vital to maintaining healthy soils and plants, and thus in feeding the world.
Microbes are the master recyclers, for example, taking our pollution and waste and turning them into fuels, biodegradable plastics etc. Yes, some microbes can cause terrible suffering, but in turn, they provide us with the means to improve planetary and human health, e.g. pharmaceuticals and genome-editing tools. Moreover, our microbiomes are essential to our health, and as pathogens are part of a community, we are learning to restrict their activities by using ecological countermeasures, like phage therapy and faecal transplants. Quite simply, microbes rule the world, and I take the liberty here of directing the interested reader to an editorial outlining the Microbiology Literacy Initiative (Timmis K. et al. 2019 The urgent need for microbiology literacy in society. Environmental Microbiology 21: 1513–1528), which explains in detail why microbiology matters.
---
If you are a member of the Society and would like to find out more about how you can get involved with Society activities and/or showcase your research, please email us at

[email protected]

.