An interview with Lynsay Blake
September 2020
Dr Lynsay Blake is a proteomics PDRA and until recently a Daphne Jackson Research Fellow at Durham University. She is also a member of the Microbiology Society and, in this interview, tells us more about how her research is contributing to moving towards a more circular economy and achieving the United Nations Sustainable Development Goals (UN SDGs).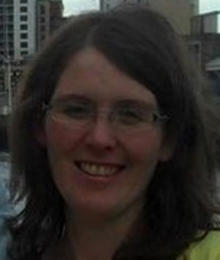 Tell us more about your research.
I have always been really interested in the interactions humans have with nature and our environment. My research reflects this interest. I investigate the roles microbes have in natural and engineered systems. Asking questions about how microbial community structure and function change under perturbation, what implications these changes might have for biogeochemical processes, but also how we might utilize the power of microbes to change our municipal or agricultural practices to safely eliminate the production of waste.
How does your research contribute to the development of the circular economy?
Throughout my work, I draw upon my biogeochemical background, industrial and cross-disciplinary experience to assess the implications of our current solid waste management practices on our ecosystems and to explore how best we can integrate agricultural and municipal solid waste into the circular economy. In this, I work with industrial partners, social scientists, engineers, clinicians, toxicologists, environmental scientists and chemists all over the world.
My research has always contributed to the development of more sustainable systems. For example, my work on transiently cold arctic sediments provided an avenue for the development of more sustainable, low temperature, waste treatment (and energy production) through utilizing the properties of low temperature adapted microorganisms in anaerobic digestion. I then moved into industry as a research scientist for an SME which aimed to 'transform municipal solid waste from an expensive problem to a valuable resource' creating a flexible model for MSW separation and reuse in high-value chemical production, building materials, and energy production. My most recent funding from the Daphne Jackson Trust and Durham University, enabled me to really start comparing the impact of linear and circular processes in plant- and animal-based agricultural systems in the UK and Africa, building collaborations with a multidisciplinary national and international network.
What are some of the challenges you are facing in your research?
To solve some of the grand challenges of our time, we must work together, combining fields of expertise. So, we are combining research which crosses disciplines, and that is difficult, and often time consuming. You must build an understanding, find a common language, and build and maintain trust over long periods of time, often when you are not funded to do so. But my experience is that most people want to collaborate and contribute to a better society, and that they are inspired by addressing the challenges of our time.
How does your research address the UN SDGs?
The main driver for my research is my desire to help contribute to the global sustainability challenges that we face within the Anthropocene, and I think my research can quite intuitively be linked to creating a more sustainable future. My research is helping to create an understanding of our current position and options for future sustainable resource production and consumption, including circular systems, of which microbes are an essential component.
The SDG framework highlights the need for interconnection between distinct fields of research to respond to the needs of society quickly, in the timescales of the SDGs. They also highlight how important it is to consider how each action interacts with each and every other outcome.
---
If you are a member of the Society and would like to find out more about how you can get involved with Society activities and/or showcase your research, please email us at

[email protected]

.