An interview with Omololu Fagunwa
October 2020
As part of our 'A Sustainable Future' project, we spoke to Omololu Fanguwa, who is a PhD student at the University of Huddersfield and a member of the Microbiology Society. In this interview, he tells us about his career in microbiology and his recent review article published in Access Microbiology on how microbiology can accelerate the Sustainable Development Goals.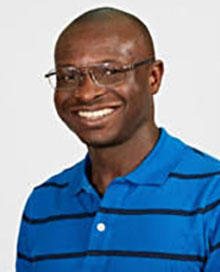 Can you tell us about your background, where you are based, and your role?
I was born and grew up in Lagos, Nigeria. I received my first degree in microbiology from Olabisi Onabanjo University, Nigeria and later proceeded to study biotechnology at Coventry University. I am based in the UK and in the 3rd year of my PhD in Biological Sciences at the University of Huddersfield, where I have isolated and characterised novel probiotics from the gut of people on a specialised diet. I also have a link with the Ministry of Health in Nigeria.
Can you tell us a bit more about the UN Sustainable Development Goals (SDGs) and how you became interested in them?
The UN SDGs are a thoughtfully crafted blueprint that aims to nurture peace, prosperity, people and planet (4Ps), now and in the future. The SDGs promotes a better and more sustainable future for all. The 17 global goals are built on decades of works by countries and the United Nations departments; from the 1992 earth summit in Rio to the millennium development goals (MDGs) in 2000 and other summits. I was actively involved in the implementation of the MDGs as a fresh graduate of microbiology. During the compulsory national youth service (NYSC), I engaged my undergraduate laboratory skills and experience to organise mobile diagnostics centres among the remotest people who don't have access to healthcare. As an MDGs facilitator, I also organised campaigns on fighting HIV/AIDS, tuberculosis, malaria among others, and that unexpectedly earned me a presidential honours award. My interest in the UN SDGs is a rollover passion about attaining developmental goals and experiencing working with international development partners such as the Global Fund and UN bodies.
Your review published in Access Microbiology focused on the role of microbiology in achieving the SDGs addressing food security, health and wellbeing, clean energy, environmental degradation and climate change. Can you tell us a bit more about some of the key ways microbiology can help to achieve the SDGs?
The publicly obvious and relevant way which microbiology can help achieve the SDGs is its contribution to good health, production and stewardship of efficacious medicines, vaccines and other therapeutics. Climate action and clean energy is a big deal now and efforts have been on alternative sustainable sources of energy. Microbiology has contributed in bioconversion of wastes and agricultural substrates to various biofuels for domestic and industrial use. There is still work to do around electrogens, which has the potential to expand the scope of bio-electricity and microbial fuel cells. The Shewanella and few other strains are promising but more microbes need to be unearthed. Food security is another aspect that has various angles that microbiology can contribute to. Soil microbiology and biological processes of biogeochemistry have application in ensuring abundant and nutritious food. Research into probiotics and the microbiome may result in outcomes which can help to control satiety and maintain balance of good microbes in the gut. That will ease pressure on large meal consumption and help secure food. I need to say that a non-classical relationship is developing around microbiology and addressing gender equality, peace, justice, and economic growth. The present pandemic caused by SARS-CoV-2 clearly revealed the magnitude to which microbiology relates to economic growth and may redefine the definition of peace and freedom. We see restrictions that are normally associated with war and conflict. Could we be steps ahead of a future pandemic? Should economists, investors, treasuries, and central banks begin to factor in the unseen in the economic roadmap and support the microbiological community to be ready to tackle any potential unseen economic enemy of biological origin?
What are the large knowledge gaps where more microbiology research is needed to provide information and solutions to improve the chances of achieving the SDGs?
The aspect of gut microbiome, fermentation and probiotics still present extensive opportunities. There are fermented foods in other regions of the world to which we don't yet understand the microbial composition and function despites the locals using them for various health reasons. A lot still needs to be done around food security and ending hunger. Research funders may consider asking how research will be addressing the SDGs.
You also mention in your review that there is a lack of awareness of the SDGs within the microbiological community. How do you think we can raise awareness of the SDGs and engage microbiologists to support them?
Aside from the recommendation for the microbiological community to have an extensive survey among its membership on SDGs, there could be a special fund to support SDGs outreach and engagement activities among members and the wider life sciences community. SDGs award or recognition will serve as encouragement for those who have been working immensely in contributing to specific goal(s) and this act will also bring awareness to the bigger community and gears for more actions.
Your article included some recommendations for people working in different areas to help accelerate the SDGs using microbiology. What recommendations do you have for microbiology researchers to make their work more impactful with regards to the SDGs?
Microbiology researchers may consider redesigning their interests around the SDGs and have justifications on how it contributes to the SDGs. Collaboration is another key factor here. Researchers that collaborate beyond their institutions or/and countries are likely to make more impact. It should be a kind of 'microbiology researchers without borders'. Core values of excellence, integrity, openness, skill development and empowerment should be enshrined in this collaborative effort.
If you are a member of the Society and would like to find out more about how you can get involved with Society activities and/or showcase your research, please email us at

[email protected]

.