An interview with Dr John Tregoning
June 2020
Dr John Tregoning is a Reader in Respiratory Infections at Imperial College London, and a member of the Microbiology Society. In this interview, he tells us more about his research and why he thinks microbiology matters.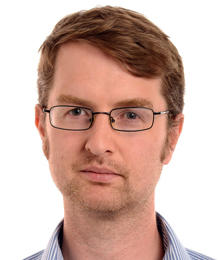 Tell us about your research and why it is important.
Respiratory infections are the main cause of death and disease from pathogens and, as we have seen during the SARS-CoV-2 pandemic, they can cause major global disruptions. My team and I work on the immune response to respiratory infections, so that we can prevent them. We are interested in the entire pathway of protection from respiratory infections, from altering nutrient availability to adaptive immunity.
What challenges do you face in your work and how do you overcome them?
As a principal investigator, one of the biggest challenges is getting grant funding in for the group. This is a highly competitive process and, as such, more applications will be rejected than funded. This can be draining, especially given the time and effort it takes to put the application together, but particularly because I really want to answer the questions in the grant. Learning how to pick up the pieces and start again has required building resilience.
Why are vaccines important and what are the challenges in developing them?
Vaccines provide a seatbelt against infections. Alongside clean water, they have had an enormous impact upon global life expectancy and have even contributed to the eradication of smallpox. There are many challenges in developing them, from finding the correct antigen, to formulating it properly, to making its temperature stable, so it can be used all over the world.
Where did your interest in microbiology come from?
Happy accident. I'd been interested in science from primary school. This interest became focused on biology and chemistry in senior school, because you could see the experiments and there was less maths. I did a broad natural sciences degree and only really specialised during my PhD, in which I generated a transgenic tobacco plant expressing a vaccine. I was fortunate enough to work with the microbiologist Professor Gordon Dougan and immunologist Professor Tracy Hussell, who inspired a fascination in vaccines and infection. This led in a circuitous fashion to a postdoc with Professor Peter Openshaw, who gave me the space to work on a range of different areas, and eventually in my own lab.
Why does microbiology matter?
Because it's everywhere: in the soil, in yoghurt, in beer, in our guts and on our skin. It is the infections we do and don't get. It is an endlessly fascinating puzzle of life and the world around us.
Tell us about your biggest professional achievement(s) so far.
I think the thing I am most proud of is supporting my PhD students. I have had a wonderful team of individuals work in my lab. I have loved being part of their lives and following their journey to become scientists in all kinds of different careers including medicine, science writing, academia, the civil service, funding and even accountancy.
Why is it important to be a member of an organisation like the Microbiology Society?
Membership of a professional body gives you access to a family of like-minded scientists. In particular, the annual meetings give you the opportunity to catch up with your peers over beers.
---
If you are a member of the Society and would like to find out more about how you can get involved with Society activities and/or showcase your research, please email us at

[email protected]

.