An interview with Dr Sara Clohisey
June 2020
Dr Sara Clohisey is a Core Scientist at the Baillie Group; a postdoc at The Roslin Institute at the University of Edinburgh, and a member of the Microbiology Society. In this interview, she tells us more about her research and why microbiology matters.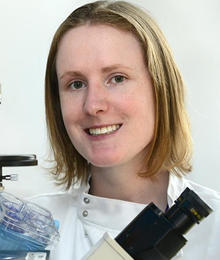 Tell us about your research.
The Baillie Lab is concerned with exploring the host mechanisms that lead to the development of sepsis in humans. Broadly, I am interested in host–pathogen interactions; more specifically, the interaction between infections such as influenza A and the innate host immune system.
You have recently written a paper on how a genome-wide CRISPR screen identifies host dependency factors for influenza A virus infections. Can you tell us more about what you found?
This work was completed as part of a large collaboration between The Roslin Institute and the Broad Institute. Bo Li and Kenny Baillie completed an amazing amount of work! This screen found many new genes and validated many findings from previous groups.
In this way the project turns the concept of meta-analysis into basic science. We developed an algorithm called Meta-Analysis by Information Content (MAIC), to integrate the findings from this screen, with many previous studies of host genes required by flu.
Of the 121 hits found, we further validated four, including CMTR1 which is required for the cap-snatching mechanism the virus uses to transcribe mRNA.
Why is understanding the life cycle of pathogens and how they spread important?
The lab focuses mainly on human pathogens, and I look at human influenza in particular. It's easy to make a case for understanding the life cycle of common pathogens, and the part humans play in spreading them, when we see seasonal outbreaks that are more serious than normal. The SARS-CoV-2 outbreak has really highlighted the importance of understanding less established pathogens to the forefront of everyone's minds.
What qualifications did you obtain before starting your role?
I completed my undergraduate degree at Trinity College Dublin in Biochemistry with Cell Biology, after which I completed my PhD at the Wellcome Trust Centre for Cell Biology in Edinburgh.
What are the professional challenges that present themselves and how do you try to overcome them?
Keeping on top of new techniques is definitely a major challenge. Luckily, it's a challenge I have experience in facing. My PhD was in a very different subject to that of my postdoctoral work. During my PhD, I focused on biochemistry and developmental biology, using Drosophila as a model organism. I switched tack almost entirely for my postdoctoral work. Suddenly, I was working on human blood samples, preparing RNA libraries and learning about new sequencing technologies; it was like being back at square one! I'm lucky to work at an institute among a diverse set of groups, and there is always someone willing to help when you need some guidance. Now that I'm further on into my postdoc, I even get to return the favour every now and then!
What is a typical working day for you?
I can be doing anything from running from a Western, to running array jobs on Eddie, the Edinburgh University computer cluster. I'm half wet lab and half dry lab, so I don't have a typical day – it really depends on the project I'm working on!
Tell us about your biggest professional achievement(s) so far.
Recently, I had a paper accepted, which examined the host sequences targeted by the cap-snatching mechanism of influenza A – that was almost completely bioinformatics based! This was something I could never have imagined happening a few years ago.
Bioinformatics has become a large part of the projects I work on, but my training has almost exclusively been in molecular and cell biology. It has been a steep learning curve, and there have been many obstacles to overcome; as to start with, computer-based methods were really outside my comfort zone. I started by taking online courses in Python programming and just went from there.
You are an active member of the Microbiology Society – tell us more about your involvement.
I am a Microbiology Society Champion, which means I promote the Society at a local level and make my peers aware of Society activities at meetings. We have a very enthusiastic membership at The Roslin Institute.
I have also attended conferences on behalf of the Society, to help carry out surveys on how the Society is performing, and what we could do to make it more inclusive to people in research adjacent roles.
Why is it important to be a member of an organisation like the Microbiology Society?
The Microbiology Society offers its members so many opportunities. Whether it's the Early Career Microbiologists Forum; which gives a chance for those early in their career to showcase their work to their peers; or the Annual General Meeting, which allows scientists from all over the UK and Ireland to meet up and hear about the latest research.
Additionally, the Society helps smaller groups host specialised meetings, which are so important in encouraging new connections and collaborations.
Where did your interest in microbiology come from?
During my undergraduate degree, I completed a few short projects on Trypanosoma brucei and they fascinated me in two specific ways; the first was how they could evade the host adaptive immune system, through Variant Surface Glycoprotein (VSG) switching; the second was the massive changes the parasite undergoes to switch hosts from mammal to insect.
This led to me becoming interested in how other microbes can make it through host defences and, more specifically, how the host and the pathogen interact and shape each other.
Why does microbiology matter?
Just because we're relatively big, doesn't mean the small things don't matter! With things the way they are, it's easy to think of microbiology as the study of scary things – but microbes aren't something to fear. Studying them helps us to understand how our own cells work and helps us to develop new technologies that benefit everyone.
---
If you are a member of the Society and would like to find out more about how you can get involved with Society activities and/or showcase your research, please email us at

[email protected]

.