An interview with Joanne Kite
June 2020
Joanne Kite is a PhD student at the University of Surrey (UK) and a member and Champion of the Microbiology Society. In this interview she tells us more about her research which focuses on understanding the cell biology of Herpes Simplex Virus (HSV) infection and why she joined the Society.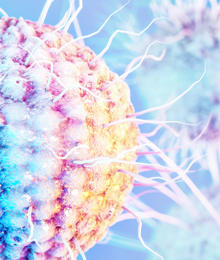 Tell us a little about your area of research and why it is important.
I am a PhD student in the Elliott Lab at the University of Surrey focusing on understanding the cell biology of Herpes Simplex Virus infection. HSV infects human skin cells and establishes lifelong latency in neurons. Reactivation from this latent state causes cold sores as well as more severe diseases such as keratitis and encephalitis. My research focuses on further understanding the entry of HSV into its natural host, the human skin cell. Further understanding of HSV entry will allow the development of targeted therapeutics that prevent HSV establishing infection and decrease the worldwide burden of disease.


Why does microbiology matter?
Microbes are everywhere and cause one of the largest worldwide burdens of disease! Further research into this can only improve worldwide human health in the years to come. I think it is especially important to research viruses, as this also provides unique insights into the host cell biology.
Where did your interest in microbiology stem from?
During my BSc in Biomedical Science I was not at all interested in either microbiology or research. However, in my final year I partook in a research project in Dr Mark Paget's lab at the University of Sussex, looking at regulation of gene expression in Streptomyces. This project introduced me to how fascinating microbiological research is. My interest in viruses began when I worked with Professor Polly Roy on bluetongue virus.
Why did you join the Microbiology Society?
I joined the Microbiology Society last year to attend the Annual Conference in Belfast. Since then I have attended a number of different events organised by the Society and submitted an abstract to present my research at the Conference this year. Joining the Society has been a great opportunity to attend events, to learn about state of the art microbiological research and to network with others in the field.
You are a Microbiology Society Champion – tell us a little more about what you hope to achieve?
I am keen to promote the benefits that the Society can provide to my friends and colleagues. In the future I hope to team up with other Champions and organise some fun microbiological events at Surrey – hopefully we can involve the wider community too. As well as promoting the benefits of the society to other scientists and researchers I hope to communicate the benefits of microbiological research to the general public.
How do you keep up to date with the latest microbiology news?
I recently joined Twitter where I have found that following leading scientists and organisations in my field is the best way to stay up to date. I also regularly check the websites of interesting journals and look at the Microbiology Society newsletters.
---
If you are a member of the Society and would like to find out more about how you can get involved with Society activities and/or showcase your research, please email us at

[email protected]

.