An interview with Professor Venugopal Nair
June 2020
Professor Venugopal Nair is a Research Group Leader at The Pirbright Institute, a visiting Professor of Avian Virology at the Department of Zoology, and a Jenner Investigator at the Jenner Institute, University of Oxford. He is also a member of the Microbiology Society, and in this interview, he tells us more about his research into viral diseases of livestock.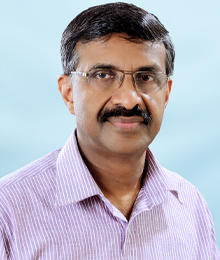 Tell us more about your research.
In the Avian Viral Oncogenesis group that I lead, we are primarily interested in understanding the molecular mechanisms of cancer induced by a group of oncogenic viruses. My research has identified some of the important viral genes that are critical in inducing cancer. I now focus on gaining further insights into the gene functions and the virus–host cell interactions that drive neoplastic transformation. For this, we have determined the dynamic changes of the transcriptomes, proteomes and the epigenomes of the cancer cells, to catalogue an integrated profile of the molecular events that drive transformation. Advent of powerful CRISPR/Cas9-based gene editing technologies allow us to use functional tools to interrogate these critical determinants on their role in neoplastic transformation.
Why is this research important to microbiology?
With a qualification in Veterinary Medicine, I have a long-standing passion for animal health. I strongly believe that my research, which is aimed towards developing a better understanding of the molecular mechanisms of diseases can bring further innovations in disease control. With poultry contributing significantly to global food security, and the continuing threat from new and emerging pathogens, research on new strategies to combat infectious diseases is critical.
Can you tell us more about any professional challenges and how you have attempted to overcome them?
Building a team of people around you who have a similar passion to you is the toughest professional challenge. This is very important for my own inspiration as well as the motivation of the team. I have been very fortunate to work with a fantastic team throughout my career. However, keeping the team, especially the most talented ones, is another challenge which requires more grant money; this of course means writing and winning more grant applications!
What is the fascination with current research?
With unprecedented technological advances in areas such as bioimaging, structural biology, single cell sequencing and gene editing, I find that the opportunities for bioscience research, particularly in cell and cancer biology, irresistible. These tools fascinate me to ask many more fundamental questions in cell and cancer biology, which hitherto were almost impossible.
Tell us more about what a typical working day looks like for you.
There is no typical working day! Every day is a busy day with meetings with the team, other scientists and when I am not attending conferences, reviewing papers and writing grants! It usually spills over into the evenings and weekends too. Lab meetings with the whole group are fun, where we all get chance to hear the progress, problems and a whole list of things that do not work!
Tell us about your biggest professional achievement(s) so far?
Probably the biggest professional achievement so far is that my research contributions were recognised, through the award of an OBE, in the New Year's Honours list (2015). Shortlisting for the final of the 2018 BBSRC Innovator of the Year Award, and the Newton Prize 2019 for my project on the UK-China Joint Centre of Excellence for Research on Avian Diseases are also the achievements I am proud of.
Are there any educational and outreach activities you have undertaken in your role?
Increasing professional commitments is making it more difficult to find time for many of the educational and outreach activities. However, I always enjoy the participation in the Poultry Health Course and Poultry Disease group meetings, where I get to know more about the problems and challenges from veterinarians in the field about how they tackle these major avian infectious diseases.
Where did your interest in virology come from?
My interest in virology started when I did a postgraduate diploma in Medical Virology. This is when I first learnt of the beauty and simplicity of viruses, and at the same time, gained an understanding of how destructive they can be. My virology interest was rekindled when I did postdoctoral research on flaviviruses at Oxford.
Why does virology matter?
This question is probably most relevant now as the threat of a potential pandemic of SARS-CoV-2, causing COVID-19 is unfolding right in front of our eyes. We have also recently seen unprecedented levels of emergence of viruses (Ebola, Nipah, and Zika to cite a few examples) which threaten human health. Veterinary viral pathogens such as African Swine Fever virus; against which we have no vaccines, are also causing havoc in many parts of the world.
---
If you are a member of the Society and would like to find out more about how you can get involved with Society activities and/or showcase your research, please email us at

[email protected]

.