Papers are now available for the 2022 Annual General Meeting
04 August 2022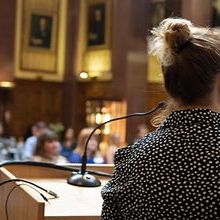 The 2022 Annual General Meeting (AGM) will be held on 1 September from 13:15 BST (UK time). The AGM is an opportunity to reflect on and celebrate the work of the Society over the previous year, to understand its financial position and to thank those who stand down from our Council, Committees and Divisions in December.
In keeping with our values of being transparent and professional and true to our charitable aims, the AGM presents the 2021 Annual Report, giving members the opportunity to see how our resources are applied and to ask our Trustees questions about how the organisation is managed.
But we will also celebrate our future and receive the incoming members of Council, Committees and Divisions, and look ahead to an ambitious new stage as we launch our 2023–2027 strategy!

All members are invited to participate and can find the schedule, meeting papers and the link to registration on the event page.
Papers include:
Notice of the 2022 AGM
Minutes of the 2021 AGM
Annual Report and Accounts 2021
Society membership subscription rates 2023
Incoming members of Council, Committees and Divisions
Outgoing members of Council, Committees and Divisions
We look forward to seeing you all there!