The microbiome and human health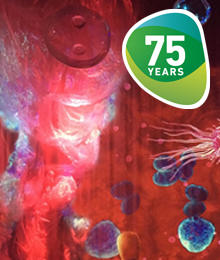 Microbiomes play a vital role in the health of living systems. There is still much research to be done to understand the functional links between the microbiome and disease, but this work is opening up a vast range of opportunities in human health including identifying early risk factors of diseases.
From using faceal microbiota transplants to rebalance the gut microbiome, developing probiotics and prebiotics and alternatives to antibiotics, broadening our understanding of how the microbiome influences our ability to respond to many drugs.
What is the human microbiome?
The human gut microbiome is essential to our nutrition and digestion, but there is also research to suggest that it may have a role in the cause of certain cancers and even influence processes in the brain and our mental health. Learn more about the importance of the microbiome in our short video below.

Why the human microbiome matters
Understanding the human microbiome and how it influences health and disease should be of fundamental importance to our society. There is increasing evidence that the gut microbiome is particularly important to the health and nutrition of both humans and animals. Many of the essential metabolites in the human bloodstream, on which our immune cells depend, are made by microbes in the gut.
Read more about why the human microbiome matters to our members and the wider microbiology community, access our additional resources, including our report on Unlocking the Microbiome, and continue to read more about why the world of microbiomes matters to microbiology as we explore agriculture and food.
---
To celebrate our 75th anniversary in 2020, we invited microbiologists to nominate the discovery or event that best showcases why microbiology matters and helps us demonstrate the impact of microbiologists past, present and future. Learn more about the microbiologists who are working in the field of microbiome and human health research.

Discover more about microbes found in an ancient mummy, the microbial communities within the chronic wound, read through our journal collections and Microbiology Today: The Microbiome issue, which illustrate how microbiome research is revolutionizing the future of science.

Micro-organisms play a fundamental role in agriculture and food production. Discover more about how microbiota in these systems perform an array of pivotal functions essential to system health, sustainability and productivity.

Image credits:
Steve Gschmeissner/Science Photo Library
María Luisa Maldonado