Disease eradication?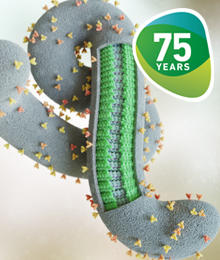 Eradicating disease
Disease outbreaks can have a significant impact on human populations, and they need to be closely monitored and contained to limit their potential spread.
We have been able to develop successful vaccines for many diseases, including yellow fever, rubella and tuberculosis in the past few centuries; however currently, the consequences of high-profile epidemics like Ebola, Zika and COVID-19 have been the subject of intense global media attention.
It is clear that epidemics have had a huge impact on public health throughout history, and it is not always easy to predict where and when these outbreaks might occur. However, developing technology and research, combined with education and surveillance might go some way in addressing the challenges that epidemics bring.

Why does eradicating disease matter to microbiology?
Understanding how epidemics become endemic is key to understanding how disease transitions and persists in populations.
HIV and AIDS are a major global health threat, affecting millions of people. However, with on-going research, significant progress has been made in our ability to prevent, diagnose and treat HIV and AIDS. Although HIV and AIDS have unfolded as global tragedies of the last 30–40 years, they have also illustrated the importance of the work of virologists and other microbiology-associated researchers. This research has revolutionised prospects for those who were, and are infected with this virus. It is therefore important to recognise the value of investments made in basic and translational microbiological research, and in a community of scientists that has an admirable track record in responding to major global challenges and threats.
Read more about why eradicating disease matters to our members and the wider microbiology community, access our resources which detail how far we have progressed in our efforts to eradicate disease, and find out a bit more about our next content hub which will explore microbiology and genetics.
---
To celebrate our 75th anniversary in 2020, we invited microbiologists to nominate the discovery or event that best showcases why microbiology matters and helps us demonstrate the impact of microbiologists past, present and future. Learn more about the microbiologists whose research has had an impact on helping to eradicate disease.

Discover more about how the development of vaccines has led to the prospect of eradicating diseases such as polio, and how following a successful vaccination campaign in Scotland, researchers have shown that levels of cancer-causing human papillomavirus have dropped 90% in young women.

Microbes can be found in a range of diverse environments and contribute to many vital environmental processes. We will explore three key areas where microbes can be found and how we can use them to our advantage: microbes at the extremes, the role of microbes in climate change and recycling and creating novel products from microbes.
---
Image credits:
Dr_Microbe/iStock
Cameron Hubert