An interview with Dr Adam Roberts
January 2020
Dr Adam Roberts is a Senior Lecturer at the Liverpool School of Tropical Medicine and a member of the Microbiology Society. In this interview he tells us more about his research in investigating the acquisition and dissemination of antmicirobial resistance and his outreach work. Adam has also pioneered various outreach activities including his Swab and Send project which aims to find new antibiotics, as well as engaging the public, schools and other groups about the issues surrounding AMR.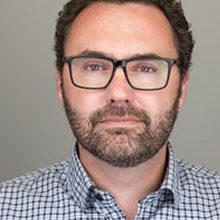 You've been investigating the acquisition and dissemination of antimicrobial resistance since your PhD. What motivated you to pursue this path?
After learning of horizontal gene transfer in bacteria just before my GCSEs, I was amazed how this conflicted with the concept of species we were being taught. That really grabbed my interest and it is this interest which motivates me to continue to this day. I think that if I had begun to find it less interesting I would have changed fields. This is now compounded with a growing sense of unease at rising resistance rates and an understanding of the situation elsewhere in the world.

Were you tempted to pursue any other areas of microbiology?
At the stage of applying for PhDs I was interested in virulence, resistance and horizontal gene transfer (HGT). There was an advert for multiple BBSRC funded PhDs at the University of Aberdeen with one which simply said, "gene transfer". I thought, "that's the one" and it was.
You were awarded the Microbiology Society Outreach Prize in 2017. How did you get into public engagement and how has your Swab and Send project developed over the years?
I think scientists have a responsibility to let the public know what and why we are doing what we are doing so I searched out opportunities to talk about my work on AMR and HGT from a relatively early stage in my career. It is much easier to solve a problem which affects society, especially with something as pervasive as AMR, when society understands the problem too.
The Swab and Send project made a huge difference to my activity in this area and it continues to grow. It has really opened up some of the basic concepts around AMR and drug discovery to people of all ages, it is also incredibly good fun and is turning up some extremely interesting bacterial strains.
What other outreach activities have you been involved in?
Some really fun ones which come to mind include chairing and participating in various expert panels for the public such as at the British Science Festival in Bradford and the Science Museum in London, the public screenings of the film Resistance (sponsored by Microbiology Society) and a bit of television (BBC1; Trust Me I'm a Doctor) and radio (BBC Radio 4; The Truth about Hawaii), a graphic novel (Surgeon X), computer game; (Superbugs), museum exhibitions (Superbugs; the fight for our lives at the Science Museum, London) and an AMR-based contemporary dance production (Antibiotic Apocalypse). One bonus of participating in these projects is that you make some fantastic connections and lifelong friends along the way.
What have been your personal career highlights?
Each one of my PhD students receiving their doctorate. They have all had incredible journeys and I am impressed by the way they have handled it.
What advice would you give to early career researchers looking to pursue a similar career path?
Be adaptable, play the long game and play it with realistic expectations.
If you weren't a scientist what would you be?
I seriously doubt I could be anything else if I am honest.
---
If you are a member of the Society and would like to find out more about how you can get involved with Society activities and/or showcase your research, please email us at

[email protected]

.