An interview with Professor Laura Bowater
January 2019
Professor Laura Bowater is a committed science communicator and is based at the University of East Anglia. Laura is particularly focused on raising public awareness of the growing problem of antimicrobial resistance (AMR). Here she talks to us about why she chose to become a microbiologist, her biggest professional achievement and why it is important to get involved with the Microbiology Society.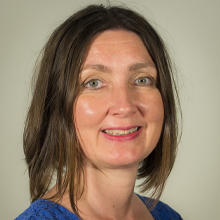 Tell us about your area of research?
Our research is taking a two-pronged approach tackling the global problem of antimicrobial resistance. We are using a citizen science project, Antibiotics Unearthed, to ask members of the public to provide soil samples. We are screening these samples to search for novel antibiotics being produced from bacteria found in soil.

We are also engaging with citizens who are involved in this project to see if taking part in the process has raised awareness of the problem of antimicrobial resistance, and to help develop an understanding of the motivations to engage with potential solutions. In many ways, we are using Antibiotics Unearthed as a case study to evaluate the effectiveness of citizen science projects as an effective means of science communication.
How could your research help to tackle antimicrobial resistance?
There is always the possibility that this search will uncover a new antimicrobial compound with clinical efficacy!
Tell us about your current role
I am a Professor of Microbiology, Education and Engagement at the Norwich Medical School, University of East Anglia, UK. In general the areas of microbiology that I cover are focused on their role in human diseases. In particular, I focus on highlighting the growing problem of antimicrobial resistance and why this is a problem that is becoming more important for the doctors of tomorrow who will encounter more and more cases of hard to treat infections.
One of the messages that I try to convey is that infections are going to re-emerge as one of the most common causes of mortality and morbidity and that we need to be ready for this. I have also developed a Massive Open Online Course (MOOC) 'Using Infection Control to Combat Antimicrobial Resistance' that outlines how effective infection control in health and social care can help tackle the global risk of antimicrobial resistance. I am also the author of a popular science book The Microbes Fight Back that explains why antibiotics have had such a profound effect on modern society and why we may be facing a future where we can no longer depend on these magic bullets to treat infectious diseases.
How important is antimicrobial resistance as a health issue?
To quote Professor Dame Sally Davies, Chief Medical Officer for England, antimicrobial resistance is a "ticking time bomb" that poses an incredibly serious threat to society now and in the future.
In your opinion which areas of research are likely to have greatest impact on tackling antimicrobial resistance in the future?
There are a lot of research areas to choose from. In my mind, I think it is vital that we begin to refill our pharmaceutical cupboards that are starting to look uncomfortably bare. Therefore, searching for new antimicrobial compounds would be a top priority for me.
Why did you choose to become a microbiologist?
I grew up in Uganda as a child and was always careful of the things adults advised were not visible to the naked eye but could make you fall ill and cause great harm. This fuelled my desire to learn more about what these "microbes" were, where they came from and how they functioned.
Tell us about your biggest professional achievement(s) so far?
Becoming Professor of Microbiology, Education and Engagement is a huge professional achievement that I am very proud of. I had to negotiate an unexpected four-year career break just after completing my PhD and worked as a part-time research assistant for eight years before securing my teaching fellowship at the University of East Anglia. Although managing a career and family has never been easy, I have tried hard to remain a positive role model, supporting young female scientists and ensuring that my two daughters reach their potential and follow their dreams.
Do you have any advice for early career scientists who'd like to work in antimicrobial resistance research?
We need you. Welcome on board.
Why does microbiology matter?
Because almost every aspect of life as we know it relies on the intricate relationship we have with the microbial world.
Why do you think the Microbiology Society is important?
It raises awareness about the importance of microbiology to wider society, But, at the same time it provides opportunities to collaborate with other microbiologists pushing forward research frontiers and research agendas.
Tell us more about the activities you have taken part in as a member of the Microbiology Society and why you think others should also think about getting involved with our work?
One of my highlights as a member of the Society was my role as Editor of Microbiology Today. I learnt a vast amount of information about areas of microbiology that I knew very little about. Meeting and interacting with a wide network of talented scientists and researchers led to stories about the breadth, depth and intricacies of the microbiological world being shared amongst our community. As scientists and researchers, we are driven by a natural curiosity and the Microbiology Society provides a platform to share this curiosity with others.

Getting involved with the Microbiology Society allowed me to enhance my academic portfolio, grow my professional networks and develop the self-confidence I needed to successfully apply for my Professorship.
---
If you are a member of the Society and would like to find out more about how you can get involved with Society activities and/or showcase your research, please email us at

[email protected]

.