An interview with Dr Mike Beeton
January 2020
Dr Michael Beeton is a Senior Lecturer in Medical Microbiology at Cardiff Metropolitan University. Along with teaching, Michael is interested in research into ureaplasma and mycoplasma. Michael also represents the Microbiology Society on Public Health England's External Advisory Group on Sexual Health, Reproductive Health and HIV.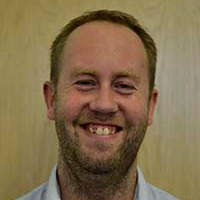 Tell us a little about your current role.
I am currently a Senior Lecturer in Medical Microbiology based at Cardiff Metropolitan University. This role involves teaching microbiology to undergraduate students, mentoring postgraduate students, writing research grant proposals, preparing manuscripts for publication as well as routine administrative duties such as sitting on ethics panels.
What is your area of specialism?
I have an interest in all things ureaplasma and mycoplasma. The mycoplasmataceae are a fascinating family of bacteria which have an impact on many areas of health and disease. This curiosity began during my PhD when I was interested in understanding the mechanisms of antibiotic resistance among Ureaplasma parvum and Ureaplasma urealyticum isolated from babies which were born prematurely. My research has developed into trying to understand how these bacteria, which have such a minimal genome, retain the capacity to cause infection as well as developing new ways to detect and treat resulting infections. More recently I have expanded my work into other mycoplasmas with an interest in the respiratory pathogen Mycoplasma pneumoniae and the closely related Mycoplasma genitalium, which is currently an emerging hot topic in the sexual health community.
Can you describe a typical working day for you?
As for many microbiologists, there is no such thing as a typical day. Chances are I will deliver a lecture or practical session, reply to emails, attend academic meetings and, if I am lucky, be able to get into the laboratory and do some experiments. I think it's really important to stay active within the laboratory, especially when it comes to supervising project students. I am also fortunate enough to be part of an enthusiastic academic microbiology community here at Cardiff Metropolitan University, meaning that are able to meet up and chat about all things microbiology as well as refill on coffee!
What are the most important skills you need for your current role?
Multitasking as well as time and project management, all of which I am still trying to get a grasp on. Due to the diverse nature of projects which I am involved with, the student projects I run and the programmes I teach on, it's not possible to anticipate what is coming next.
Where did your interest in microbiology come from?
I would love to say there was a defining moment, but to be honest I am not completely sure. When I was at school, I was set on going into either agriculture or horticulture; but I was convinced, by my now wife, to go down a more academic route and apply to university. As I found the A-level biology module on Human Health and Disease fascinating I took a gamble and applied to read for a degree in Applied Microbiology. Thankfully the gamble paid off!
Why does microbiology matter?
As I tell my first-year undergraduate students - we live in a microbial world. If it was not for these micro-organisms, we would not be able to exist. With this in mind, there are many known, and yet unknown micro-organisms out there, which have the capacity to cause infectious disease. We are learning more about the role these microorganisms play in human health and disease and not necessarily just in the context of infection.
Do you have any advice for early career microbiologists?
My advice is based on the (many) mistakes which I have made over time.
My top 5 tips are as follows:
Do not be afraid to ask questions or speak to people at conferences, it shows that you are interested in a topic.
Keep watch of your own mental health as well as those around you.
Work with people that you want to work with, and not just those that you feel you should work with.
Don't be afraid to try something new, if it doesn't work then learn from it.
Engage with social media in a positive way.
You recently attended the joint Health Infection Society (HIS) and Microbiology Society event 'Bridging the Clinical-Research Gap.' Tell us a little about your experience.
This was a great experience to chat with like-minded scientists. Listening to talks from invited speakers gave a sense of diversity among the projects that are possible when doing clinical microbiology research. These talks also tackled some of the hurdles and solutions that may be encountered while trying to initiate or carry out clinical research such as ethical considerations and funding. During the afternoon group discussions, it was great to share our own experiences and appreciate that many of us face the same struggles and successes when it comes to working with clinical samples.
You represent the Microbiology Society on Public Health England's External Advisory Group (EAG) on Sexual Health, Reproductive Health and HIV. Tell us about this and your involvement so far.
The EAG meet every four months at Public Health England in London to discuss contemporary issues facing the areas of Sexual Health, Reproductive Health and HIV. The EAG comprises of various stakeholders such as NHS commissioners, individuals representing various patient groups such as the National AIDS Trust and the Terrance Higgins Trust as well as clinicians who are patient-facing. These individuals discuss issues around funding, access to healthcare provisions such as sexual health testing, public awareness campaigns and recent data such as the identification of extensively drug-resistant Neisseria gonorrhoea or trends in sexually transmitted infections.
My role is to act as a conduit between the EAG and the Microbiology Society to inform on any policy changes which may be of interest. In addition to this, I am called to give opinions and the scientific explanation on technical issues, such as the ease by which bacteria can acquire or disseminate antibiotic resistance or the difficulties that can be faced when trying to detect various STIs.
What would your advice be for anyone considering getting more involved with the Society?
I would highly recommend getting involved with the Society as it is a very rewarding activity. Too often it is easy to get engrossed in your own work and focus on the tiny details while neglecting the bigger picture. By being involved with the EAG it has given me the opportunity to apply what I have learnt to real-world situations and perhaps contribute to decisions that will make a difference.
Why did you join the Microbiology Society?
I joined the Society when I was an undergraduate as it was recommended to me by my lecturers. Through the Society, I have had the opportunity to develop my academic potential and is, therefore, the reason that I recommend joining the Society to my current students.
---
If you are a member of the Society and would like to find out more about how you can get involved with Society activities and/or showcase your research, please email us at

[email protected]

.