An interview with Dr Liz Jenkinson
October 2020
Dr Liz Jenkinson is Chief Executive at Biocleave, a company that uses microbiology and chemistry to create sustainable ingredients which can be used in the manufacture of consumer goods and industrial products. In this interview, she tells us more about how her research is helping to develop sustainable alternatives in industry and why she values being a member of the Microbiology Society.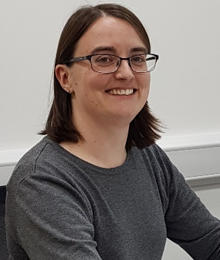 Tell us more about your research.
I have spent most of my career working in industry, primarily for Green Biologics Limited. I started with the company as a bench scientist and worked my way through to Chief Technology Officer, with responsibility for the UK-based research and development labs. Our role was to develop tools for solventogenic clostridial strains to optimise production of the bio-chemicals acetone and butanol. We took the process through to a commercial scale in the US in 2016. In 2019 the company changed focus (and its name) and I took on the role of Chief Executive. As Biocleave Ltd, we are still using solventogenic clostridia but are now using the methods we developed for genome editing (our proprietary CLEAVE™ technology), to generate recombinant strains capable of making higher value products at much lower volumes.
Why is this research important?
With the drive to develop sustainable alternatives (for example, in energy production, manufacturing, etc.) the use of microbes can at least partly contribute to a solution. The work we did with clostridia to produce bio-versions of acetone and butanol enabled us to demonstrate the advantages of bio-based products over petroleum-derived equivalents; not just as the molecules used in chemical reactions, but also in consumer products where the differing impurity profiles actually gave benefits over and above green credentials.
Can you tell us more about any challenges you have had to overcome?
In the lab, growing and manipulating clostridia can be challenging and a lot of work has gone into being able to work with them routinely. Generating mutations in the genome was a laborious, hit-and-miss process until we developed our CRISPR-Cas based editing methods. This technology has proven to be invaluable for us; the challenge of cost versus scale (and oil prices) meant we were unable to maintain the cost-effective production of butanol and acetone, but now that we have the capability, we can routinely engineer clostridia for other products.
This leads onto one of the biggest challenges, which is raising funds. We need to ensure we focus our resources on the projects that can support a strong investment case, which sometimes means de-prioritising side projects (which can often be more exciting). It can also be challenging for the team to move from one project to another but, as a small team, we try to make sure everyone understands why and the importance of their work to the overall success of the company.
Why is it important to be a member of an organisation like the Microbiology Society?
From my perspective, the biggest benefit has been the academic and industry networking opportunities. Meeting fellow Microbiology Society members at various conferences has led to several collaborative grants, and one such encounter 10 years ago is the reason we took on our first industrial placement student.
---
If you are a member of the Society and would like to find out more about how you can get involved with Society activities and/or showcase your research, please email us at

[email protected]

.