An interview with Dr Lori Snyder
October 2020
Dr Lori Snyder is an Associate Professor at Kingston University, UK, and a member of the Microbiology Society. In this interview, she shares how her interest in the issue of antimicrobial resistance has led her to identify alternative therapies, using genomics with experimental work in order to understand bacterial pathogens.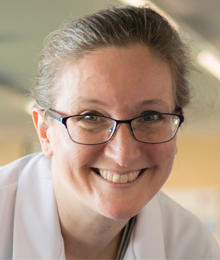 Tell us more about your current role.
I am an Associate Professor at Kingston University, in South West London, where I teach students from foundation year, through BSc levels, taught MSc programmes, and supervise MSc research and PhD students. I also conduct my own independent research and collaborate with others. I feel that it is important that my role enables me to do both, in order to educate the next generation of scientists and critical thinkers and to drive forward our understanding of bacteriology and genetics through original research and innovation.
When did you become interested in bacteria and genomics?
Since I started my research, I have been motivated by the issues of antimicrobial resistance, the need to understand the mechanisms of resistance and the need to identify alternative therapies. During my PhD the first genome sequences became available. Since then, I have integrated bacterial genetics and genomics with experimental work to understand bacterial pathogens and improve methods to control infectious diseases. My research has defined the phase variable gene repertoire of the human pathogens Neisseria meningitidis and Neisseria gonorrhoeae, information that has been important in understanding the behaviour of these bacteria in various host niches and in vaccine design. Additional work I have conducted in these pathogens includes defining a system of horizontal gene transfer, contributing to understanding the prevalence of a genetic island, identifying sequence features contributing to transcriptional termination, investigating non-coding RNAs, and chromosomal rearrangements.
How have your research efforts expanded horizons with restriction enzymes?
Significantly, my group has demonstrated that monocaprin is able to rapidly kill N. gonorrhoeae and N. meningitidis, does not cause irritation in several in vitro assays of ocular irritation, and that N. gonorrhoeae did not develop resistance nor genomic changes indicative of resistance evolution. This research shows promise for the prophylaxis and treatment of gonococcal eye infections, including both ophthalmia neonatorum and adult keratitis, in the face of antimicrobial resistance and indeed untreatable gonococcal infections.
This research is a result of working at Kingston University alongside Professor Raid Alany, an expert in drug delivery to the eye, and has emphasized the importance of cross-disciplinary collaborations and supporting research in environments such as mine. I feel all aspects of my role are very much intertwined and essential parts of each other.
---
If you are a member of the Society and would like to find out more about how you can get involved with Society activities and/or showcase your research, please email us at

[email protected]

.