An interview with Dr Carla Louise Brown
September 2019
Dr Carla Louise Brown is Founder and Director of Game Doctor, an educational technology company that develops games and apps on STEM and microbiology. Here she tells us about her current role, her greatest achievement and her experience of speaking at the Microbiology Society Annual Conference 2019. She also explains why she is a member of the Society and the importance of engagement.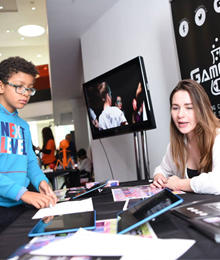 Tell us a little about your current role as founder of Game Doctor
At Game Doctor we develop software, games and media to educate on complex topics in science and healthcare. I founded the company in 2016 after my PhD and I currently lead on the design of new products, business development, project management, client engagement, funding and administration. At the moment it's a very diverse role but I'm slowly starting to delegate as more people come on board.
Working at Game Doctor is really exciting. One day I will be designing wireframes for a new mobile game, the next I will be delivering a webinar or presentation at a business event.
Leaving academia to launch Game Doctor made perfect sense to me and has always felt like the right decision. My passions have always been science, communication and relationship building and by running a business, I get to do all of these things. I have been working on the company full time since last November which is very exciting (and scary!)
What is your greatest professional achievement(s) so far?
Through Game Doctor I have won several amazing awards including being on the Forbes 30 under 30 list in 2017 and the WeAreTheCity Rising Star Business Award from Investing Women (2019). However, this year I've realised that I get a bigger sense of achievement by developing the team and the company. I feel really proud of Game Doctor and this year I have worked with the Isle of Man Government and the University of Cambridge. My advice to anyone who is considering starting a business (or who is in the throes of it), is to remember that it will get better and those dream collaborations will happen.
What would your advice be for anyone thinking about a career outside of research?
Although I don't work in academia anymore, I still carry out research and have co-authored a few papers since my post-doc. Having research experience also gives Game Doctor an edge in the market as we have the skills to formally evaluate our products and therefore provide clients with data they can use for publications.
To this end, my advice for anyone leaving research is: 1) You are leaving for a reason so enjoy your next career step, you will meet new types of people and develop new skills which could take you anywhere; 2) You don't have to stop being a researcher because you leave academia. Use your research skills to help you stand out, a good evidence-base is valued in all industries.
Why did you join the Microbiology Society?
I've been an on/off member of the Microbiology Society since my early undergraduate studies. I love staying in touch with the research as it gives me inspiration in my work (especially the new product we are working on currently). I also LOVE microbiology.
Tell us about your experience speaking at Annual Conference 2019
In June 2019 I presented at the Teaching Microbiology in Higher Education Symposium at the Microbiology Society Annual Conference. My talk focused on the effectiveness of game-based learning for microbiology education and discussed different methods and toolkits for its implementation. The conference was great as I had the opportunity to meet lots of like-minded microbiologists and educators, several of whom I am still exploring collaborations with.
Why is it important to engage with Societies like the Microbiology Society?
Engaging with societies such as the Microbiology Society is great for establishing new partnerships and collaborations with like-minded people. As a business, it also allows us to stay up to date with current and emerging research in microbiology and explore trends in research and industry.
How do you keep up to date with the latest microbiology news?
I keep up to date with microbiology news using several different methods. I have around 20 alerts on Google Scholar that relate to my PhD research (I had this theory during my PhD that I'm 95% sure is going to come out in the research); I have subscriptions to several professional societies including the Microbiology Society and I also learn about news and research through our clients. We are currently working with a couple of amazing microbiologists in the UK who are working on very exciting things.
Why does microbiology matter?
Microbiology is one of the most exciting and evolving fields in research. The developments over the last decade have been amazing, especially for microbiome research and social behaviours of bacteria.
I have always found microbiologists to be really fascinating and multidisciplinary people which is what keeps the field so diverse. We need to keep attracting fantastic and curious people to this field so we can continue the story. In the lab, I always recognised myself as a bacterial psychologist. If we can better understand why these bugs behave the way they do we can make advancements in healthcare, industry, food production, biofabrics, medicine – the list goes on.
Are you a member and interested in sharing stories about your research journey? Email [email protected]