An interview with Dr Fiona Brennan
December 2019
Dr Fiona Brennan is a soil microbiologist at The Irish Agriculture and Food Development authority (Teagasc) in Ireland. She is a member of the Microbiology Society and in this interview she tell us more about her research and why it is important.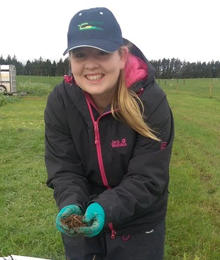 Tell us more about your research
I'm a soil microbiologist working in The Irish Agriculture and Food Development Authority (Teagasc), where I lead a research group in soil and environmental microbiology. Teagasc is a publicly-funded national body responsible for providing integrated research, advisory and training services to the agriculture and food industry in Ireland.
While we also carry out fundamental research, our main focus is providing applied research that is readily translatable into practical advice that can be implemented by farmers, growers and the agri-food industry.
Why is this research important?
The science we do is directly used as an evidence base by national and international policy makers and regulators, and informs agricultural practice on the ground. Soils are critically important to the functioning and sustainability of the planet. They provide a range of essential functions, including producing the vast majority of our food, filtering our water, providing fibre and fuel, cycling nutrients, sequestering carbon and regulating climate. Most of these functions are underpinned by the microorganisms in soil, making the knowledge of these organisms and how they work of vital importance.
Our research seeks to understand how the function of micro-organisms within soils and plants is affected by agronomic practice in combination with soil, environmental and climatic factors. We aim to develop advice to enhance beneficial functions of these micro-organisms while reducing any negative effects.
Why is understanding agriculture and how microbiology can have an impact, crucial to developing environmental sustainability?
Agriculture is currently facing a number of very significant challenges. Principal among these is the necessity to develop climate-resilient agricultural systems of farming that are both economically and environmentally sustainable.
Developing systems that can maintain production whilst simultaneously reducing environmentally damaging nutrient losses is one of the key undertakings of our time. This includes an urgent need to reduce greenhouse gas and ammonia emissions, increase carbon sequestration and reduce nutrient losses to water.
As a major driver of nutrient cycles, microbial activity largely determines the balance of these nutrients, and as such is an indispensable part of the solution to mitigating these losses. We study the organisms that transform nutrients and we seek to identify farming practices that enable increased sustainability of these systems.
---
If you are a member of the Society and would like to find out more about how you can get involved with Society activities and/or showcase your research, please email us at

[email protected]

.