An interview with Dr Helina Marshall
Dr Helina Marshall is a Research Fellow at Queens University in Belfast, Editor of Access Microbiology and ECM Forum Executive for the Publishing Committee at the Microbiology Society. In this interview she tells us more about her research and why understanding the microbiome is important to the food industry.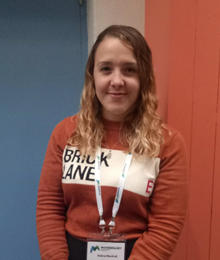 Tell us about your research
I am a Research Fellow in Microbiology at the Institute for Global Food Security at Queen's University, Belfast. I am also the Publishing Representative on the Early Career Microbiologists' Forum Executive Committee at the Microbiology Society, and Editor of Access Microbiology. My current research is focused around understanding the mechanisms that bacteria employ to survive the different types of environments they may encounter during the food production process, in an effort to ensure the security of our food.
Why is understanding the microbiome important to the food industry?
The food industry is becoming increasingly aware of the microbiome, often known as the 'good bacteria' that inhabit our intestines, and the idea that maintaining these bacteria and continuing to supplement our diet with probiotics will lead to a 'healthy gut, healthy you'. For example, according to market reports, sales of probiotic yoghurt reached nearly $20 billion in 2018.
As in humans, animal microbiomes have functional roles in important processes such as efficient nutrient uptake and metabolism. Dysbiosis can lead to poor health by way of developmental defects, metabolic diseases and increased susceptibility to infection.
How have antimicrobials proved to be important for sustainable livestock production?
The World Health Organization (WHO) highlighted the importance of antimicrobial use in agriculture when they stated that they are: "Vital medicines for the treatment of bacterial infections in both humans and animals. Antimicrobials have also proved to be important for sustainable livestock production and for the control of animal infections that could be passed onto humans." The surprising discovery that the use of antibiotics in animal foods could enhance growth led to many decades of antibiotic usage that has had a significant effect on food animal management practice.
Why does microbiology matter?
Microbes are ubiquitous and can be found almost everywhere on Earth and are involved in so many important processes that we simply couldn't live without them, however they are also a massive threat to human, animal and ecosystem health. For me, the understanding of how certain bacteria in particular are able to adapt and develop new survival mechanisms, whether that be through environmental survival in food processing, or adaptation to host defence mechanisms is key to not only providing safe and secure food for our growing population, but to also helping to prevent human and animal disease.
---
If you are a member of the Society and would like to find out more about how you can get involved with Society activities and/or showcase your research, please email us at

[email protected]

.