An interview with Dr Lindsay Hall
December 2019
Dr Lindsay Hall is Research Leader at the Quadram Institute and a member of the Microbiology Society and its Policy Committee. In this interview she tells us more about her research into early life microbiota-host interactions and the educational and outreach activities she has undertaken to illustrate the importance of the gut microbiome.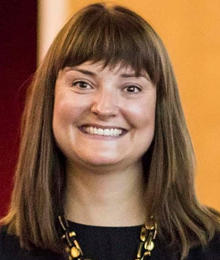 Tell us about your research
I'm currently a Group Leader at the Quadram Institute in Norwich. Our multi-disciplinary team is undertaking research which is trying to unravel the role of the microbiota in very early life, and its links to our health. We use a variety of tools and approaches (wet and dry lab) to understand how specific microbes (e.g. Bifidobacterium) interact with the host, which links with our two large longitudinal studies; BAMBI (preterm infant microbiomes and supplementation interventions) and PEARL (following mothers throughout pregnancy and them and their babies post birth).
What is your area of specialism and why is it important?
Our research focus is the microbiome, particularly during the early life developmental window. We are interested in this life period as infants pick up their beneficial microbes at birth, with the ecosystem evolving over key stages of immune and metabolic development. These microbe–host interactions are central for healthy infant and longer life heath. Crucially, if these pioneering microbes are disturbed by, for example, a course of antibiotics or a change in diet, then this can alter the early life ecosystem which may have negative consequences on host health – such as infection risk, chronic intestinal disorders and allergies. Thus, understanding 'normal' early life microbiota dynamics is important for development of new therapies for at-risk infants.
What are the most important skills you need for your current role?
Multitasking, resilience and management skills – and the order changes daily!
What qualifications did you obtain before starting this role?
I have taken a fairly typical route: BSc in Microbiology (University of Glasgow) and then a PhD in Vaccinology (University of Cambridge, Wellcome Trust Sanger Institute).
What are the professional challenges that present themselves and how do you try to overcome them?
Leading and motivating the team is always a challenge, which is always tough with imposter syndrome constantly 'hovering'. I have attended various courses to help me develop skills in these areas which has been useful, but every day is a school day! Getting our work published is always a challenge and balancing this with needing to meet targets for people's career goals and the wider team can be hard. For me this is a bit of perseverance, but I'm delighted preprints are being used more and more, as this is what we are now doing for all our work – it's great to see it out there, even if the whole publication process is taking ages.
What is a typical working day for you?
Every day is different! Sometimes I'm away from the 'office' for meetings, commitment work or conferences. But when I'm in, its normally catch-up meetings with the team, (which are always fun, especially if they have some exciting new data to show me!), other meetings, paper and grant reviews, paper drafting and editing, maybe some public engagement projects will also need my attention and dealing with loads of emails...!
Tell us about your biggest professional achievement(s) so far.
Probably the biggest professional achievement so far is being awarded a Wellcome Trust Investigator Award at the end of 2013. At the time I was the youngest person to have received one (which was crazy!), but most importantly this was my first competitive grant and meant that I was able to start my own group, as to that date I didn't have any resources (staff, students or a lab!) – so it was all very exciting, and also super daunting!
You are an active member of the Microbiology Society, tell us more about your involvement
I am on the Policy Committee which is a key interface to help the microbiology community deliver real impact. This has been an interesting and rewarding experience and I would highly recommend that members actively engage with the various committees, as they are central to the Society's wider activities and outputs.
Why is it important to be a member of an organisation like the Microbiology Society?
The Microbiology Society represents a hub for microbiologists to come together. Being a member enables me and the team to discuss our findings at the Annual Conference and specific themed meetings, to catch up with friends and colleagues and talk about collaborations. It has also enabled us to publish some of our work in their open access Society journals, and also the grant support (visiting studentships and professional development grants) has allowed us to build on exciting research and engagement work, taking things to the next level.
Please tell us a little about the educational and outreach activities you undertake in your role.
As well as our lab and clinical work the team is also passionate about wider public engagement. One of our larger projects involved working with artists and creators to develop a giant walkthrough interactive gut to convey the importance of our gut microbes. We have also more recently developed an exciting new primary school resource, aimed at introducing children to their 'Guardians of the Gut', which has been supported by the Microbiology Society.
Where did your interest in microbiology come from?
My interest in microbiology came from my undergraduate degree at the University of Glasgow. Out of all the biology modules you could take in first year, I really enjoyed the microbiology ones, with this enthusiasm further cemented during my time in Glasgow, which was very much in part to some amazing lecturers and mentors!
Why does microbiology matter?
Microbes are all around us – and play hugely important roles in all aspects of our lives. It's amazing that things so small have such significant impacts, and therefore why being a microbiologist is so exciting, as we can really strive to make a difference.
---
If you are a member of the Society and would like to find out more about how you can get involved with Society activities and/or showcase your research, please email us at

[email protected]

.