An interview with Dr Thuy Do
February, 2020
Dr Thuy Do is a Lecturer in Oral Microbiology and Deputy Director of Postgraduate Research Studies at the University of Leeds. She is a member of the Microbiology Society and an Editorial board member for the Journal of Medical Microbiology. In this interview she tells us more about her research into the oral microbiome.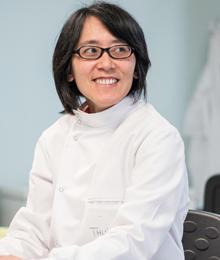 Tell us about your research
My research focuses on investigating the phylogenetic diversity of the oral microbiome and its association with certain systemic diseases. I am also interested in understanding the functional biology governing complex interactions within oral biofilms, and the use of novel antimicrobial materials to reduce biofilms.
What is your area of specialism and why is it important?
My area of specialism is the application of next generation sequencing (i.e. metagenomics, meta-transcriptomics and bioinformatics) to characterize biofilm samples, cultured in vitro; and or from clinical samples (saliva, tongue scrapings, dental plaque). The data obtained is of invaluable importance, it helps to decipher distinct microbiome signatures and allows a better understanding of dysbiosis, and remedial solutions.
What are the most important skills you need for your current role?
Thinking outside the box, patience, perseverance and resilience are key in my job; but in fact these are good skills that apply to life in general too. Resilience and having a 'thick skin' are not taught at school, though I think they should be part of the curriculum. Instead, they are rather gained through life experiences, successes and failures. Academic life is certainly full of surprises.
The never-ending thirst for knowledge is what drives me and keeps me interested in doing research. I do try to instil this passion into my teaching, though there is always room for improvement.
Multitasking, resilience and management skills – and the order changes daily!
Oh absolutely! I often struggle with managing my time and the stress associated with it. This has repercussions on my work life balance; however, I am learning to deal with it much better now.
It is important to keep a clear focus on your career path ahead and research interests; and although it may seem selfish at times, I believe it is necessary to not be afraid to say "no", even to eminent individuals. I have found that getting a mentor really helps in maintaining this focus. I've been lucky to have been in contact with exceptional researchers, who have advised and guided me through my career so far.
What qualifications did you obtain before starting this role?
My first undergraduate degree was in Biochemistry and Microbiology, which I completed at the University of Strasbourg in France. I then moved to England, Teesside where I studied another undergraduate degree, in Food Science and Nutrition. Luckily, they accepted me into the final year directly. I then did a MSc in Analytical Chemistry. During this time, I also took the opportunity to improve my English, especially when it came to understanding the local accent.
Having been initially confident in my English proficiency, I was soon shocked by the disparity between the English taught at school in France and the actual spoken language in England. I followed up with a PhD in Bioprocess Development at De Montfort University, looking into novel methods of bioremediation of textile wastewater using bacteria isolated from activated sludge. I remember sitting next to Jimmy Choo during my PhD graduation. He was there to receive an honorary doctorate. One of my many regrets is to have lost an opportunity to ask him for free shoes, or at least a discount.
I then moved to London to be a postdoctoral researcher at King's College Dental Institute, for several years before moving to Leeds to take up a Lectureship position.
What are the professional challenges that present themselves and how do you try to overcome them?
Being female, a member of an ethnic minority and LGBT community, I have not been aware, nor have I felt at any direct disadvantage professionally in my current workplace. Having a robust support network in place would certainly help mitigate any related issues.
Challenges are found in any line of work. In academia, it helps to be able to pick oneself up and carry on following defeats such as grant and manuscript rejections. We must not lose sight of the bigger picture, keep believing in ourselves and be open to new ideas by taking up networking and collaboration opportunities.
What is a typical working day for you?
My work timetable is flexible and varies greatly day to day. Being a night owl type of person, I typically get up between 7 and 8am. I used to check my work emails immediately, but I have now learned to refrain myself from reading and answering them outside of working hours. I attend academic, committee meetings and deliver lectures when these are set in my diary.
As the Deputy Director for Postgraduate Research Studies at my school, I attend regular meetings with postgraduate researchers, as well as some administrative responsibilities with postgraduate processes. I also attend PhD supervisory meetings and regularly spend time training PhD students in the lab and in silico.
The rest of my time is spent trying to keep up with the literature in my field of research, and continually improve my computing skills for bioinformatic analyses. And of course, there is data analyses, manuscript and grant writing.
I also catch up with my additional roles as the Editorial board member for three journals, as well as manuscript peer reviewing, which tend to be pushed to evenings on weekdays and weekends.
I really try to switch off now and then from work and not feel guilty about it. Though we are all supposed to multitask, I have found it easier and more satisfying to block time off from meetings whenever possible, in order to complete one task at a time, rather than handling several things but not completing any.
Tell us about your biggest professional achievement(s) so far.
From a personal point of view, I have, for a long time, struggled with low confidence and self-esteem and a fear of public speaking, which is ironic considering my job. I find it rewarding when tasks and challenges I set for myself are completed and achieved, I consider them my personal victories, however small they may be.
One of my proudest professional achievements so far was being able to establish a strong link between dental schools in Brazil and Leeds. I was awarded funding from a joint Brazilian fund and UK academies which allowed me to travel to Brazil and develop this link through setting up numerous research collaborations. Recently, with my collaborator Dr Naile Dame-Teixeira, we have been successful in acquiring funds from the Academy of Medical Sciences to continue our collaborative work on a multidimensional approach to dental caries investigation and prevention; including characterisation and modulation of a microbial model of dental caries.
You are an active member of the Microbiology Society, tell us more about your involvement
I have been a member of the Microbiology Society for about 20 years or so and have sporadically attended conferences and meetings, but it is only recently that I consider myself a more active member, through my involvement as the Editorial board member for the Journal of Medical Microbiology. I find it exciting to be involved in the peer reviewing process and being able to contribute to the high standard of the journal.
Why is it important to be a member of an organisation like the Microbiology Society?
The Microbiology Society is a fantastic platform that provides the most up to date, high quality information regarding all aspects of microbiology. It brings together the brightest minds in each specialization, and also puts an emphasis on educating the next generation of scientists. I have noticed its expansion in the last two decades, which is testimony to its success and the importance of microbes in the world, which are recognised more and more by industry and the general public.
Please tell us a little about the educational and outreach activities you undertake in your role
I have so far only been involved in a few public engagement activities, but I intend to increase my role in the future. I have participated in an 'Ask the Researcher' event locally, as a member of the research team investigating the link between the microbiome and rheumatoid arthritis. We presented our work and answered questions from members of the public and the patient and public involvement and engagement network.
I also recently gave a lecture on the oral microbiome at the British Society for Dental Hygiene and Therapy as part of an educational programme and was recently invited to contribute at the 2020 Dentistry Show, which is organized by the British Dental Association every year.
Where did your interest in microbiology come from?
Throughout my education in France and in the UK, I have been inspired by the possibility and excitement of exploring and discovering scientific research. Teachers and lecturers have instilled respect and passion for science in me; which I still maintain at heart, particularly for microbiology. I find it fascinating, despite all the progress made to date, that we have to be reminded of how little we know and understand.
Why does microbiology matter?
Micro-organisms have existed long before us and may possibly remain in existence long after us. We have a lot to learn from their resilience and evolution, be it for our own sustainability and future survival as a species. They are key to our existence.
---
If you are a member of the Society and would like to find out more about how you can get involved with Society activities and/or showcase your research, please email us at

[email protected]

.