An interview with Professor Glenn Gibson
December 2019
Glenn Gibson is Professor of Food Microbiology, Head of Food Microbial Sciences at the University of Reading and a member of the Microbiology Society. In this interview he tells us more about his research, why he thinks the human gut microbiome matters and how he is striving to ensure that gut microbiology is better represented on politicians agendas.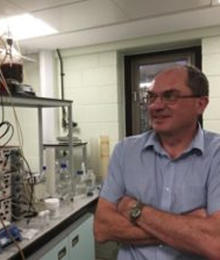 Tell us more about your area of research.
After finishing my PhD on sediment microbiology in Dundee, I had no idea that I would be spending the next 30 years researching people's faeces. Maybe my sense of smell has always been this bad! But it has some upsides – the gut microbiota is one of the most heavily colonised microbial ecosystems, and is easily so in the human body, especially the large intestine. It has a major impact on health and can be modulated by diet, which is what my research has looked at during this time. To do so, we work with model laboratory guts and then the human gut. Both smell as bad as each other.


Why does the human gut microbiome matter?
It matters because health matters. We have researched a range of situations that can be helped by modulating the microbiota with prebiotics and probiotics. These have included people of all ages, as well as people with irritable bowel syndrome (IBS), inflammatory bowel disease (IBD), autism and certain specialist populations such as high-level athletes and the military. It is not difficult to alter someone's gut microbiome and the outcomes are profound – even stretching to systemic issues like cognitive disorder, obesity and metabolic syndrome. It is great to be in a research field that may actually help people through straightforward approaches.
Aside from that, my career has been very kind to me in that the job, if you can call it that, is not difficult, certainly compared to what my parents and their parents did, but is flexible and provides opportunities to have an impact. This can be through research papers, which are a lasting legacy, but also from presenting at conferences. I have friends and research colleagues all over the world because of this, so that matters too.
In the future, I will be working more with politicians in order to ensure gut microbiology is better represented on their agendas. I will also continue with our human studies with prebiotics and trying to tackle issues that have confounded our research – like do men and women break wind at the same rates and can they always blame their bacteria? Hardest part of the 'job': removing sweetcorn and onion skins from people's excrement.
---
If you are a member of the Society and would like to find out more about how you can get involved with Society activities and/or showcase your research, please email us at

[email protected]

.