An interview with Rochelle Hockney
Rochelle Hockney is a Graduate tutor and PhD researcher at Teeside University and a member of the Microbiology Society. In this interview she tells us more about her research into the placental and fetal membrane and discusses why investigating the microbiome is so important.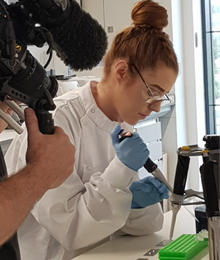 Tell us a little about your research
I am currently conducting my PhD research in the placental and fetal membrane microbiome and infection related to chorioamnionitis and preterm birth, plus links to inflammatory biomarkers. We do this by using next generation sequencing, qPCR and Raman spectroscopy.
Why this research important?
Preterm birth is a leading cause of neonatal and maternal morbidity and mortality. Debate and questions as to the role of infection and inflammation in preterm birth related conditions are ongoing, thus increasing research, investigating the microbiome, bacterial load and inflammatory markers linked to these conditions is vital to improve our current knowledge and information base.
Why does microbiology matter?
Microbiology is a key driver and component in human health, with human microbe interaction at the forefront of modern and clinical medicine.
---
If you are a member of the Society and would like to find out more about how you can get involved with Society activities and/or showcase your research, please email us at

[email protected]

.