An interview with Dr Odile Harrison
March 2020
Dr Odile Harrison is a Departmental Lecturer at the School of Zoology at the University of Oxford, UK and a member of the Microbiology Society. In this interview, she tells us more about her research, including the projects she has been involved in to try and help eradicate emerging diseases and exploring population the genomics of bacterial pathogens.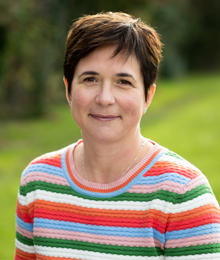 Tell us about your research
My work explores the population genomics of bacterial pathogens. I am particularly interested in defining bacterial lineages using genome data, as this has the potential to allow strains associated with distinct pathologies (including antimicrobial resistance), to be more rapidly identified. Such information brings with it opportunities for improving diagnostics, preventing infection through vaccination and the capacity to limit antimicrobial resistance.
In the late 1800s, Robert Koch and his contemporaries revolutionised microbiology through the use of culture and microscopy to identify for the first time, the causative agents of disease. Using genomics and omics approaches, we now have the ability once again to revolutionise microbiology and use these tools to better understand, identify and treat the causative agents of disease.
In 2013, you started working on the Oxford Martin and Wellcome Trust funded project, can you tell us more about this?
In this project, we explored whole genome sequencing data (WGS) belonging to the sexually transmitted bacterial pathogens Chlamydia trachomatis and Neisseria gonorrhoeae, to identify putative vaccine candidates. This was a multidisciplinary project combining genomics, immunology and mathematical modelling. Sexually transmitted infections are becoming increasingly prevalent and are associated with significant morbidities, including infertility and ectopic pregnancy and can lead to the increased transmission of HIV. N. gonorrhoeae has also become resistant to all classes of antimicrobials. Prevention of these infections rather than cure is therefore key, and the development of effective vaccines is critically needed.
My work includes the use of the publicly available resource PubMLST. This web-accessible platform, the concept of which was originally defined by Prof. Martin Maiden, is freely available to researchers, public health officials and clinicians alike and provides the community with tools to analyse WGS data. Initially, this platform was developed for the analysis of bacteria belonging to the Neisseria genus with a particular focus on Neisseria meningitidis. Through my work, I have developed the tools to allow WGS data belonging to C. trachomatis and N. gonorrhoeae to be examined in greater depth using the PubMLST platform. This led to a collaboration with the Public Health Service in The Netherlands (GGD Amsterdam) and the characterization of WGS belonging to C. trachomatis including its associated plasmids which are essential for virulence in this bacterium.
Are there any other projects you have worked on in helping to eradicate emerging diseases?
I am currently involved in two projects. The first follows on the theme of N. gonorrhoeae and is a Wellcome Trust funded collaborative project led by Professor Christoph Tang at the University of Oxford. This project aims to develop a gonococcal vaccine and is also multidisciplinary involving researchers from the University of Manchester (Professor Jeremy Derrick), the National Institute of Biological Standards (NIBSC, Professors Jun Wheeler and Ian Feavers), the Kemri Wellcome Trust Research Programme in Kenya (Professor Eduard Sanders) and the University of Oxford (Professor Martin Maiden).
My role in this project is to characterize the gonococcal population using all available WGS data. I am very interested in defining the gonococcal population further as this will provide us with the tools to elucidate the mechanisms driving antimicrobial resistance (AMR), but also to inform us about what contributes to the overall fitness of this bacterium. To this end, we have recently defined all genes found to be core to the gonococcus and can use this to identify related lineages.
The second project, funded by the National Institute of Health Research (NIHR), aims to enhance the surveillance of meningitis-causing bacteria. The project entitled 'Molecular epidemiology for vaccination policy (MEVacP)', focuses on four bacterial pathogens: N. meningitidis, Streptococcus pneumoniae, Streptococcus agalactiae and Haemophilus influenzae. Excluding S. agalactiae, vaccines targeting some of the capsules expressed by these bacteria, are available that can effectively prevent infection; however, in countries of the African meningitis belt, diagnosis of infection is challenging, and it is therefore difficult to implement the timely deployment of vaccines.
This project aims to improve surveillance by using all available WGS data to optimise molecular diagnostic assays and characterize the genes responsible for the expression of polysaccharide capsules. As a result, I have developed both the S. agalactiae and H. influenzae PubMLST databases to allow WGS data from these organisms to be more readily analyzed. Professor Angela Brueggemann from the University of Oxford has been developing the S. pneumoniae PubMLST database. A wonderful aspect of this project is that it is also providing training for African Fellows to work with us and learn how to analyse WGS data.
What qualifications did you obtain before starting this role?
I completed my Bachelor of Science degree in Microbiology at University College London and my PhD at Imperial College London. Prior to working at the University of Oxford, I was a postdoctoral Fellow at Sanofi Pasteur in France and was funded by a Marie Curie Fellowship.
What are the professional challenges that present themselves and how do you try to overcome them?
Managing a career and family is not easy and does present some day-to-day challenges. I try very hard, however, to remain positive and continue to persevere. Perseverance is key in all aspects of research! It's important to ensure that other women in similar situations as me can see that it is possible and for them not to give up.
What is a typical working day for you?
I currently line manage a number of people and am responsible for their day-to-day supervision and guidance in their work. I am also a departmental and a stipendiary lecturer at Hertford College at the University of Oxford.
Combined with all this, is my research and the projects I am involved in. A typical working day starts with getting my children ready for school, making packed lunches and generally making sure everyone is happy! This is followed by coming to work, checking and responding to emails and completing general admin duties. Part of my day will involve teaching, whether this means preparing a lecture, delivering a lecture or practical, or providing a tutorial. There will then be some time to catch up with colleagues and those I am supervising. I then fit in additional research which ranges from data analysis, experiments and writing papers. Invariably, I will continue this in the evening when I am back home.
Tell us about your biggest professional achievement(s) so far.
I have always aspired to be a lecturer. Many of the lecturers I had at university were so inspiring that I want to be able to do the same. This year, I started a departmental lectureship in the Department of Zoology, and I am thoroughly enjoying this role. I have found it to be incredibly rewarding to see all aspects of teaching from lectures, to delivering a practical, to tutorials and I use this to inspire future microbiologists. In addition, I am keen to ensure undergraduates have hands-on experience with the generation and analysis of WGS data.
You are an active member of the Microbiology Society, tell us more about your involvement
I have been involved with a number of outreach events, including one last year in collaboration with the Natural History Museum Oxford: 'The Bacterial World'. In this event, children aged between 5– 12, were able to build bacteria, using arts and crafts materials; thereby learning about some of the forms bacteria can take and the structures they possess. I have also developed a genomics analysis exercise booklet entitled "How to be a genome detective' which is aimed at year 12 students and introduces them to the analysis of WGS data.
Why is it important to be a member of an organisation like the Microbiology Society?
It's a great Society for providing possibilities to meet people with similar interests, sharing information and networking. The Society also provides opportunities for disseminating the importance of microbiology to the wider community.
Where did your interest in microbiology come from?
My interest in microbiology arose during a practical in my undergraduate studies. I wasn't quite aware of the possibilities and potential microbiology had previous to this, but in this practical we grew bacteria in different culture media and performed some experiments. From this point on, I was hooked.
Why does microbiology matter?
It matters as microbes affect all aspects of our lives in both positive and negative ways. Understanding these aspects empowers us to improve public health.
---
If you are a member of the Society and would like to find out more about how you can get involved with Society activities and/or showcase your research, please email us at

[email protected]

.