An interview with Professor Roberto La Ragione
January 2020
Professor Roberto La Ragione is Director of the Veterinary Pathology Centre and Head of the Department of Pathology and Infectious Diseases at the University of Surrey. Roberto's research group is interested in understanding the mechanisms of how bacterial pathogens colonise the host.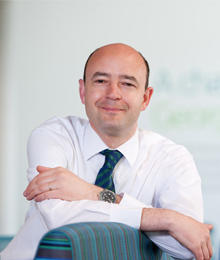 Tell us a little about your current role.
Currently, I am the Head of Pathology and Infectious Diseases; Director of the Veterinary Pathology Centre, and Deputy Head of the School of Veterinary Medicine at the University of Surrey. I am also Chair of the Royal College of Pathologists Veterinary Pathology Speciality Advisory Committee; Chair of the Humanimal Trust, a member of the Animal and Plant Health Agency (APHA) Science Advisory Board and the Houghton Trust. I was previously President of the Med-Vet-Net Association and the Veterinary Research Club.
What does a typical day look like for you?
My role involves me contributing to the overall management of the School of Veterinary Medicine, as well as managing a large department of academics and research staff focused on studying veterinary microbiology and pathology. In addition to my management and teaching commitments, I also oversee a 20-strong research group of postdoctoral scientists and PhD students focused on veterinary microbiology.
What are the most important skills you need for your current role?
Interpersonal skills and the ability to clearly articulate your research and its impact to a variety of stakeholders. Good scientific and lay writing skills and the ability to lead a team and attract funding to ensure the research groups stability.
What qualifications did you obtain before starting this role?
BSc (Hons), MSc, PhD, FRSB, CBiol, FIBMS, CSci, and FRCPath
What are the professional challenges that present themselves and how do you try to overcome them?
Funding and time! Balancing teaching, management and research.
Where did your interest in microbiology come from?
Whilst studying for my undergraduate degree, I developed a passion for studying infectious diseases.
Tell us more about your research to date
I graduated in 1995 and went on to study for a postgraduate degree in veterinary microbiology at the Royal Veterinary College at the University of London. In 1996 I moved to the Government's Veterinary Laboratories Agency to undertake a PhD on the pathogenesis of Escherichia coli in poultry. On completion of my PhD I commenced a postdoctoral position at Royal Holloway, University of London, studying E. coli virulence factors and vaccine development.
In 2005 I was appointed Head of Pathogenesis and Control at APHA – previously known as the Animal Health and Veterinary Laboratories Agency, and in 2010 I was appointed Professor of Veterinary Microbiology and Pathology at the University of Surrey. In 2010 I gained the FRCPath and in 2012, I was appointed the Associate Dean for Veterinary Strategy in the new School of Veterinary Medicine at the University of Surrey.
How do you think your research has made an impact?
Over the past 25 years, my research has focused largely on the analysis of colonisation, shedding and transmission of E. coli, Campylobacter, Salmonella and other foodborne pathogens by all farmed animal species, and I have led a number of commercial, BBSRC, EPSRC, MRC, Defra, Innovate and EU projects. I have published over 150 peer-reviewed publications in the area of host–microbe interactions, with a particular emphasis on foodborne pathogens and endemic diseases of poultry. My current research focuses on the transmission of antimicrobial resistance and the pathogenesis of foodborne pathogens, with a particular interest in the development of rapid diagnostics and intervention strategies; including vaccination and pre and probiotics for the control of bacterial pathogens in animals. My work has included the development of the highly successful PoulVacE vaccine (an E. coli vaccine for poultry).
Why does developing vaccines matter to microbiology?
In addition to protecting companion animals from infectious diseases, veterinary vaccines are essential for food security, and ensuring the highest standards of animal health and welfare in food-producing animals. Moreover, the pragmatic use of vaccines can aid in the reduction of antibiotic sales and use; therefore, reducing the emergence of antimicrobial resistance (AMR).
Why is it important to be a member of organisations like the Microbiology Society?
In order for the profession to be represented and to ensure that microbiologists have a voice.
Finally, what is your biggest professional achievement(s) so far?
Without a doubt, the development of the School of Veterinary Medicine at the University of Surrey.
---
If you are a member of the Society and would like to find out more about how you can get involved with Society activities and/or showcase your research, please email us at

[email protected]

.