An interview with Richard Urbanowicz
February 2020
Richard Urbanowicz is a Senior Virology Research Fellow at the University of Nottingham and a member of the Microbiology Society. In this interview he tells us about his research on the impact of host and virus genetic variation and working to identify the best vaccine candidates and evaluating their performance.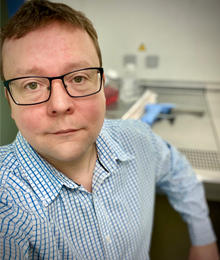 Tell us about your research
I am currently a Senior Virology Research Fellow at the University of Nottingham. I am extremely fortunate to be working on several projects at the moment, so divide my time between looking at the impact of host and virus genetic variation, on the ability of different filoviruses to infect cells, and generate bovine monoclonal antibodies for the treatment of emerging virus infections; so I never have an idle (or dull) moment.
What qualifications did you obtain before starting this role?
I did my BSc in Microbiology and Virology at the University of Warwick, then came to the University of Nottingham (originally for a year), to do an MSc in Immunology and Allergy. I enjoyed the environment so much I decided to stay and completed a PhD in Immunology. Having these different, yet complementary backgrounds, allows me to see the virus-host relationship from both sides.
What is a typical working day for you?
I was asked this question at a wedding recently, and think the guy immediately regretted it! I don't feel that I have a typical day and that is one of the reasons I love my job. One day I can be isolating B cells from cows immunised with viral glycoproteins, to clone antibodies against a haemorrhagic fever virus; whilst others, I can be reading papers, writing manuscripts, or lecturing undergraduates. I am also Chair-Elect of my school's Postdoctoral Researcher Committee; so I can also be found organising career events and highlighting Vitae's Concordat principles.
You have previously worked to identify the best vaccine candidates and evaluating their performance. Can you tell us more about this research?
Hepatitis C virus (HCV) is a major global health burden with approximately 1% of the world's population infected. Annually, 400,000 deaths are ascribed to HCV and in the US, deaths from HCV have now overtaken those attributed to the human immunodeficiency virus (HIV).
In recent years, the growing problem of hepatitis C virus (HCV), has prompted the World Health Organization (WHO), to set a target to eliminate HCV as a public health burden by 2030. However, in the absence of a vaccine against HCV, this will prove challenging. One of the major challenges of vaccine design is the extent of genetic diversity in HCV. There are currently eight genotypes, which have 30% difference at the nucleotide level. Work we have done in Nottingham is based around how that diversity impacts monoclonal antibodies (mAbs) and vaccine design. We have developed a large pseudovirus panel of isolates that allows researchers from around the world to test and evaluate the ability of their mAbs, to neutralise (i.e; stop the virus from getting into the cell) a diverse range of HCV isolates.
The performance of vaccine candidates can also be tested by using the sera from immunised animals against the same panel of pseudoviruses. We are currently working with an American consortium to enhance this panel further and plan to make it available to the wider HCV research community.
Why is this type of research important to microbiology?
By developing tools and insight that the larger HCV community can use; we hope to help vaccine development, which would be a major step towards fulfilling the WHO target of elimination by 2030. This type of panel has been used to great effect in HIV research, and has delivered targeted research on the most promising neutralising monoclonal antibodies and vaccine candidates.
What are the professional challenges that present themselves and how do you try to overcome them?
I think my challenges are very similar to what most postdocs and academics experience. Juggling the pressures of lab work, writing manuscripts, applying for funding, networking with existing and new collaborators, mentoring junior colleagues, and finding your own mentor are just a few. My way of managing them is to have a good support network around me, both professionally and personally, that can provide feedback, guidance and most importantly, perspective.
Tell us about your biggest professional achievement(s) so far.
Still doing what I enjoy and making it this far, I think! Life as a postdoctoral researcher can be hard at times, with uncertainty over career prospects; where the next grant funding is coming from etc. I have been fortunate that my PI (Professor Jonathan Ball) has brought in funds to keep me gainfully employed, and I have recently had the opportunity to apply for independent funding. Bigger picture; I take great pride in the fact that I have trained people from all over the world in laboratory techniques that have allowed them to continue to develop as scientists.
Why is it important to be a member of an organisation like the Microbiology Society?
The Microbiology Society is a fantastic society that helps people at all career stages. From the open access journals, support of smaller, more specialised meetings such as the UK Hepacivirus and Flavivirus Meeting (now in its 18th year), to the travel bursaries and Annual Conference; there is always something that the Society is doing to promote the dissemination of our science.
Where did your interest in microbiology come from?
I always cringe at this question. I feel as though I should have had some light bulb moment to describe how I fell in love with virology; but in reality, it has been a journey. I enjoyed A level biology and had an interest in virology. After my undergraduate degree, my interest had moved more to how the human body responds to infection; hence moving towards immunology. It was during my first postdoc position, that I made the decision to move back into virology, but looking at the virus-host interaction, rather than just the virus itself.
Why does microbiology matter?
Every aspect of our life (and death) is influenced by microbes. I find it fascinating to look at the interplay between how our bodies fight off infections and how the virus responds.
---
If you are a member of the Society and would like to find out more about how you can get involved with Society activities and/or showcase your research, please email us at

[email protected]

.