An interview with Vera Unwin
February 2020
Vera Unwin is a PhD student at the Liverpool School of Tropical Medicine and a member of the Microbiology Society. In this interview, she tells why her research is providing perspective into the transmission cycle of malaria and many other mosquito borne diseases and why she thinks microbiology matters.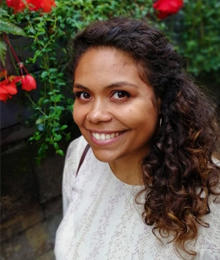 What is your role and area of research?
I have just completed my PhD at the Liverpool School of Tropical Medicine, developing and evaluating new diagnostic tests for malaria. It's an exciting mix, bringing new technologies from industry together, with the lattest developments in epidemiology. I get to travel a lot, most recently I've been working in Indonesia and Kenya.
Why is your research important?
Malaria is most prevalent in low and middle-income countries. In these low-resource settings, diagnostic tests for malaria must be field-friendly (i.e. simple to use, fast and cheap). Although such tests exist, they are currently not sensitive enough to detect infections where very few parasites are in circulation; e.g. in areas nearing malaria elimination. We urgently need better tools to detect low-density malaria infections in the field.
What are the challenges you face in your role and how do you try to overcome them?
My role involves a lot of multi-disciplinary collaboration; developing new malaria tests with industry, while coordinating with hospital staff in the field, and academics from other institutes to evaluate them. Working with people from different disciplines is a skill that has to come from experience. The learning curve is steep! Patience and an open mind are key, as is persistence.
The constant knock-backs of laboratory work are another challenge most microbiologists can sympathize with. One way I've learnt to tackle this is to talk to people in a related but different field, who can approach the problem from a different perspective. Ultimately, resilience is key in any field of science.
Why is it important to be a member of an organisation like the Microbiology Society?
Being a member of the Microbiology Society opens up unique training and funding opportunities that can be hard to come by as a PhD student; e.g. travel funding from the Society enabled me to attend a conference in Australia. Being part of the Society also offers access to a community of leading experts, support for public engagement events and useful online resources for professional development. Having just completed my PhD, I am making full use of the career pages!
Why does microbiology matter?
Microbiology encompasses a wide range of study areas. In terms of my work, microbiology offers a vital perspective throughout the transmission cycle of malaria and many other mosquito-borne diseases. The microbiota of a mosquito can affect the development of many viruses and parasites, a phenomenon that is currently being exploited for disease control. The biology of the pathogen itself is also essential for drug and vaccine development. Even the microbiome of the human host has been shown to impact the development and severity of several infectious diseases. Understanding microbiology is key to maximizing the efficacy of disease control programs.
---
If you are a member of the Society and would like to find out more about how you can get involved with Society activities and/or showcase your research, please email us at

[email protected]

.