An interview with Colman O'Cathail
May 2019
Colman O'Cathail currently works at the School of Veterinary Medicine and Science at the University of Nottingham, UK and is also a member of the Microbiology Society. In this interview he talks about his research, which is focused around understanding bovine tuberculosis epidemic in England, and if the European badger is responsible for the perpetuation of the disease in cattle. He also discusses his greatest achievement so far, gives an insight into why it is important to be a member of an organisation like the Microbiology Society and his involvement with the Early Career Microbiologists' Forum (ECM).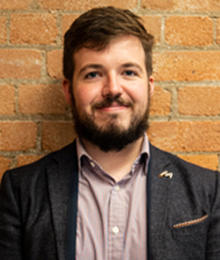 Tell us a little about your area of research?
My research is focused around understanding the bovine tuberculosis (bTB) epidemic in England. Specifically, whether or not the European badger (Meles meles) is responsible for the perpetuation of the disease in cattle. To do this, we are whole-genome sequencing isolates of Mycobacterium bovis from road kill badgers and analysing the genomes to pull down transmission informative SNPs. I am also working closely with collaborators to compare these to sequenced isolates from cattle in similar areas to understand the transmission relationship between the two host species. While the bTB epidemic is one of the main focuses of the lab I am a part of, we have other ongoing research examining the role of wildlife in other microbiology issues such as AMR.
Mycobacterium tuberculosis such a challenging pathogen to work with, tell us about Mycobacterium bovis and how it differs.
M. tuberculosis and M. bovis are part of a broader group of genetically similar Mycobacteria, the Mycobacterium tuberculosis Complex (MTBC), that all cause the pathology tuberculosis in a variety of host species. All of these bacteria are notorious slow growers, which means you have to have a lot of patience to work with them in the lab! In addition to this, much like the namesake of the MTBC, M. bovis is a hazard group 3 organism according to the Advisory Committee on Dangerous Pathogens (ADCP). This means you need to work with the organism in containment level 3 labs which can make the lab work, well, more laborious.
What effect does TB have on UK farmers? What is being done to tackle it (including any affordable treatment options)?
In his acceptance speech for the first ever Nobel Prize for Physiology or Medicine, Emil Adolf von Behring remarked that tuberculosis in cattle is the greatest threat to modern agriculture at the time. Over a century later, his words still ring true. While there are several countries around the globe that have successfully combatted bovine TB, the UK is still struggling to manage it. In fact, the current program of TB control costs the UK government approximately £100 million per annum. Much of this cost comes from trying to control the financial impact the disease has on farmers in the UK as well as the cost of testing. Unfortunately bTB is too costly to treat effectively so animals that test positive have to be culled from the herd. Although the farmers are provided with compensation for the culled animals the true financial impact comes from the movement restrictions placed on farmers with bTB positive herds. In fact, movement restrictions will remain in place until the animals in the herd return a two consecutive negative skin tests (first line diagnostic test) in a short period of time. This 'test, cull, restrict' strategy to date has shown little efficacy in reducing the incidence of bTB in England. Wildlife control programs have been popular in many other countries as there are several species that are known wildlife hosts of M. bovis, The most frequently blamed species in the UK in the European badger (Meles meles). Culls of badgers in the UK are still being conducted despite there being little evidence to support it's efficacy of a control measure.
What do you think the future of TB research looks like? Where do you think the field will be ten years from now?
Currently there is huge amounts of really exciting research in bTB ongoing across the world utilising the power of whole-genome sequencing to better understand the epidemiology of this epidemic. What I would hope is that the answers gleaned from this research impacts policy makers who will adapt their control measures to better improve their chances of achieving eradication of the disease. In fact, government agencies such as the Department for Agriculture, Food and the Marine in the Republic of Ireland has set the ambitious goal of bTB eradication by 2030, which I believe is ambitious but achievable if they adopt some of the exciting conclusions from ongoing research.
You have recently been working on the COVID-19 Data hub, how did this come about?
It's been really great. It came at a very strange time because I was in the process of finishing my PhD and then we went into lockdown. I was trying to focus on writing my thesis, but I still wanted to contribute to the pandemic response. I didn't have the time to go and work at a testing laboratory and do the work there, so I took this job as I thought it would be a great way to add to the response.
Where is the role based?
We work at the European Bioinformatics Institute and are probably some of the few researchers that are able to work from home. It's all informatics-based, and I started off working from home and have remained working from home – I'll probably do so until March of next year.
How has this experience been for you?
I've really enjoyed this experience, but it is a lot! We are the European central hub for all of the SARS-CoV-2 data, so we are managing people who are submitting data and trying to make the data we receive as accessible to people as possible by presenting it in a meaningful way. This data is important, not just for this pandemic, but also any future one and we can use it as a model going forward. I've only been in the job for three months now, but it is going really well.
What has been your greatest research achievement so far?
My greatest research achievements so far have been the privilege of presenting some of my preliminary findings on the role of badgers in the English bTB epidemic for two years running at the Microbiology Society Annual Conference.
What advice would you give to anyone thinking about getting more involved with the Microbiology Society?
Get as involved as you can. The Microbiology Society has been the greatest source of professional development for me so far in my career. They are such a focused member driven charity. If you're an early career researcher (self-defined), I'd encourage you to join the Early Career Microbiologists' Forum so that you get the most out of all the new and exciting early career initiatives starting in the society. If you want to represent your society in your local area, consider becoming a Champion. Go to as many meetings as you can, the focused meetings in particular can be an amazing networking opportunity as they are much smaller but your are more likely to meet people close to your field. Lastly, always consider running for positions on the society committees. We have relatively frequent elections with committees representing a wide array of interests from Scientific Conferences Committee all the way through to Policy!
Tell us a little about your role as a member of the Early Career Microbiologists' Forum Executive Committee.
The ECM Forum Executive Committee has representatives that sit on every single committee within the society such that the early career members are represented at all levels, from society council right down to each society division committee. I sit as the Finance and Operation representative. This means I attend the Finance and Operation board meetings which deal with the societies finances and all significant operational matters. This committee is made up of the society treasurer, the CEO, the COO and some elected representatives. This is in addition to the my role on the committee of manageing the ECM Forum budget and making sure we are spending the money we have on things that are of benefit to the early career members of the society!
Why did you join the Microbiology Society?
Initially out of instruction by a member of staff from my undergraduate university so that I could attend a focused meeting that was happening locally! This turned out to be one of the best things I've ever done. I got my first taste of how amazing the society run meetings are and have been a member since! That was 5 years ago.
---
If you are a member of the Society and would like to find out more about how you can get involved with Society activities and/or showcase your research, please email us at

[email protected]

.