An interview with Dr Yinka Somorin
May 2019
Dr Yinka Somorin is a researcher based at Queen's University Belfast and a member of the Microbiology Society. In this interview he tells us more about how his research could help clinicians make decisions on the most appropriate treatment for patients with urinary tract infections in order to avoid prescribing potentially ineffective antibiotics. He also discusses the professional challenges that he has overcome, his role as External Representative for the POST in Northern Ireland and why it is important to get involved with societies like the Microbiology Society.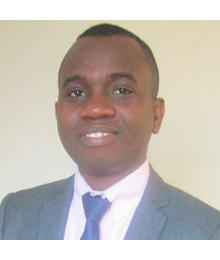 Tell us a little about your area of research.
My current research is focused on the development of an automated multiplex assay for detecting bacteria causing urinary tract infections (UTIs). This assay allows rapid and simultaneous detection of organisms causing UTI and the antimicrobial resistance (AMR) genes they harbour. My research would help clinicians make decisions on the most appropriate treatment for patients with UTI and avoid prescription of potentially ineffective antibiotics. This will not only improve patient outcomes but also reduce potential for AMR development and dissemination.

What are the professional challenges that present themselves and how do you try to overcome them?
Making career choices and finding opportunities to develop the required skills for the chosen career are of concern. The temporary nature of research contracts in the academia and the subsequent job uncertainties are some of the issues that confront early career researchers. I have been trying to overcome these challenges by maximising opportunities to develop my research skills, learning new techniques and transferable skills that would be applicable in different sectors. Having decided to follow an academic career path, I am taking advantage of networking with colleagues and feedback from my line managers/mentors on research ideas, funding applications and manuscripts, which are crucial for developing research independence and obtaining an academic position.
Where did your interested in pursuing a career in microbiology come from?
I had an interest in several themes around biology and at a time I was considering a degree in fisheries. However, I got a textbook gift from my dad's friend, Dr Rotimi Owolabi, which turned out to be my motivation for a career in Microbiology. Microbiology: Concepts and Applications by Michael J. Pelczar helped me discover the fascinating world of micro-organisms and there has been no turning back since then.
Do you have any advice for early career scientists?
Keep your dreams and seek out opportunities to fulfil them. Even when the big paper, fellowship, funding or desired job role has not come, enjoy the small successes and allow them to build up into the big breaks. Maximise the opportunities provided by membership of learned societies such as the Microbiology Society for your professional development through networks, skills development, small research grants, outreach and public engagement.
Why did you join the Microbiology Society?
I joined the Microbiology Society because of the opportunities to network with other microbiologists from around the world and the wide range of support it provides for professional development to early career researchers.
You currently represent the Microbiology Society as an external committee representative for POST in Northern Ireland, tell us a little about what is involved.
This role gives me the opportunity to represent the Society at the All Party Group (APG) on STEM at the Northern Ireland Assembly. The APG meets three times a year and supports the annual Science and Stormont event. Prior to meetings, I read the minutes from the last meeting and flag any issues. At the meeting, I present updates on the Society's activities in Northern Ireland and hear what other learned societies are doing to promote STEM. Being a member of this APG helps me to engage in discussions on topical issues that affect STEM research, education and promotion in Northern Ireland and provide perspectives from the Society.
Why is it important to get involved with Societies like us and how does it benefit your professional development?
Membership of Learned Societies gives a lot of opportunities for professional development. Personally, I have received funding from the Microbiology Society to present my research at conferences, invite international speakers and organise conferences. I have recently applied for the International Development Fund for a capacity building workshop in a developing country, to transfer my knowledge and skills as well as build new professional networks. Membership of the Society enabled me to take on the role of Policy Representative, which is helping me learn a lot about science policy as well as building professional contacts outside microbiology. These opportunities are very important in my professional journey and the contributions of the Microbiology Society are significant.
What would your advice be to anyone thinking about joining or getting more involved with the Microbiology Society?
Joining the Microbiology Society is one of the best professional decisions you can ever make. The value derived from membership far outweigh the fees. The focus on early career scientists' development by the Society is amazing and I will definitely recommend joining the Society and getting involved in the several member engagement activities.
---
If you are a member of the Society and would like to find out more about how you can get involved with Society activities and/or showcase your research, please email us at

[email protected]

.